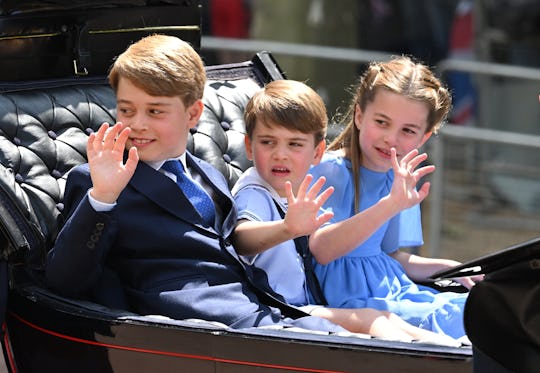 Karwai Tang/WireImage/Getty Images
Prince Louis Steals The Show As The Queen's Platinum Jubilee Kicks Off
The siblings made their carriage ride debut at Trooping the Colours today! And Prince Louis was the definition of a 4-year-old.
The royal kids looked darling today in their carriage ride debut at the Trooping the Colour, which marks the beginning of Queen Elizabeth II's Platinum Jubilee celebration in London. Prince George, 8, and Princess Charlotte, 7, were poised and lovely (as usual!), but Prince Louis, 4, absolutely stole the show.
As a quick refresher in the traditions of the British Monarchy, Trooping the Colour — or The Queen's Birthday Parade — is a celebration with more than 1,400 parading soldiers from the British Army, 200 horses, and 400 musicians go from Buckingham Palace to Horse Guard's Palace. This is beloved tradition to mark the queen's official birthday, dating back over 260 years. At today's event, the three royal kids rode side-by-side in the first carriage in the procession across from their mom, Kate Middleton, Duchess of Cambridge, and Camilla, the Duchess of Cornwall. Their dad, Prince William, rode on horseback behind the carriage, along with Princess Anne and Prince Charles.
In the photos from the event, Prince George is wearing a navy blue suit with a white shirt and a blue tie. Princess Charlotte is wearing a light blue dress, with her long hair braided away from her face. Prince George is wearing a light blue sailor suit. All three are squinting in the sun, doing their best to smile and wave at the people gathered around.
Prince Louis quietly said "wow" while looking at the crowds from the carriage ride, per the Mirror. Princess Charlotte was also seen reaching out to calm down Prince Louis, as he was waving his hands a little too energetically — he may be royal, but he is only 4!
After the parade, there was a six-minute flyover of more than 70 aircraft from the Royal Navy, Royal Army, and the Royal Air Force. Crowds cheered at the show, but those who happened to look down would see something all-too-relatable for parents: Prince Louis screaming and covering his ears. Little kids are going to act like little kids, whether grocery shopping or attending a traditional royal celebration. It's all part of being a parent.
What made this moment even more sweet is that Prince Louis was standing right next to the queen, who was watching this event as the first-ever British Monarch to mark 70 years of service. If you're going to steal the spotlight, do it right!
Queen Elizabeth is nothing if not gracious, and she shared a sweet moment with Prince Louis while on the balcony at Buckingham Palace. She was seen leaning over talking to the little boy and smiling.
At one point, Prince Louis seemed surprised and delighted at something, as he was seen with an adorable awestruck expression. His mouth was in a little round "o" as he looked out at the crowd.
Prince Louis was either bored or trying to make the pilots laugh during another precious moment. He had pinkies from both hands in his mouth, baring his teeth at the sky. Middleton leans over to whisper in his ear, definitely asking him to stop in that stern mom voice we all have.
During the airshow, Prince Louis was looking up like his siblings, but he had both hands covering his eyes. He really wasn't a fan of the flyover!
At another point, he bites his lips and gives a half-wave to the crowd, while Princess Charlotte glances at him and Middleton laughs. Prince Louis seems utterly confused about what's happening. When in doubt, wave it out, right?
What an eventful day! To catch more of these sweet moments during the Platinum Jubilee, from today through Sunday, June 5, stream the events live from the BBC iPlayer.