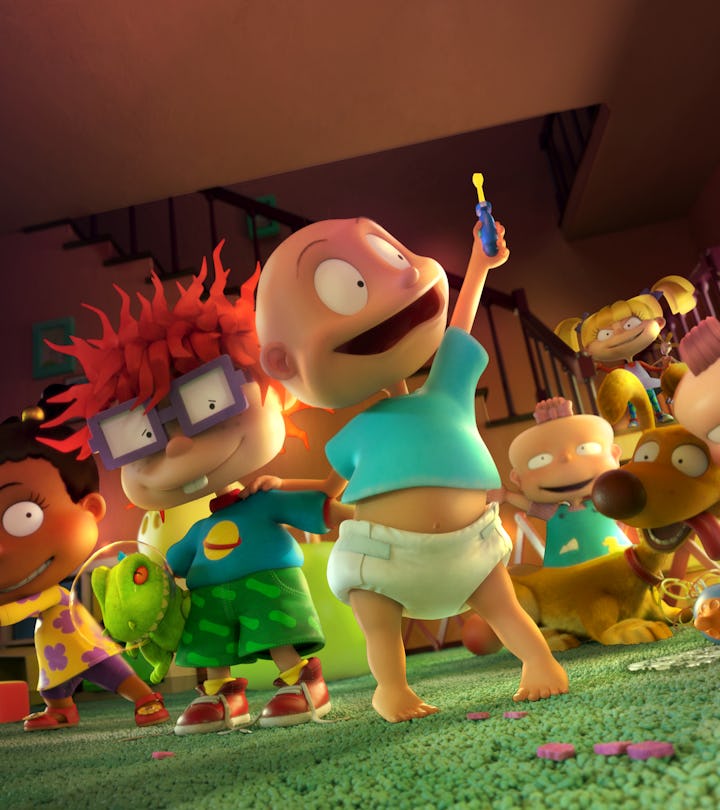 Nick Press
Everything You Need To Know About The Rugrats Reboot
The babies are back! And so is Reptar...
As Tommy Pickles once said, "Sometimes a baby's gotta do what a baby's gotta do." And those babies are making a comeback! A Rugrats reboot is headed our way very soon, so prepare for more sage words of wisdom and hilarious hijinks from the gang of babies we all know and love.
The iconic cartoon series aired for nine seasons on Nickelodeon between 1991 and 2004. Rugrats focused on Tommy Pickles and his crew of friends who always found themselves turning an ordinary day into an extraordinary adventure. And now a new audience will get to experience the glory days of Nickelodeon all over again with a new animated reboot. So here is everything you need to know:
When Does The Rugrats Reboot Premiere?
This new reimagining of Rugrats premiered on Thursday, May 27 on Paramount+. All of the original actors behind the iconic characters — Tommy, Chuckie, Angelica, Susie, Phil, and Lil — are back for the reboot. Unlike the original series, this reboot features colorful CG-animation, bringing a new life-like take to the settings and characters.
"Rugrats is one of the most iconic cartoons recognized by fans around the globe, and this original version is one we are taking great care and pride in creating for a brand-new audience," Ramsey Naito, president for Nickelodeon Animation said in a statement. "Having the voice cast behind these special characters come together is one of the essential pieces to making the show recognizable and we can't wait to watch this talented group bring them to life again."
What Will Be Different About The Reboot?
While so much of the Rugrats reboot is familiar — Spike, Angelica's cutting insults, Chuckie and Tommy's unbreakable friendship — it's not without some major changes. In an interview with A.V. Club, Natalie Morales revealed Betty DeVille, Phil and Lil's loud, feminist, sports-loving mom, had been redefined to be an openly-gay single mother in the Rugrats reboot.
"Anyone who watched the original show may have had an inkling Betty was a member of the alphabet mafia," Morales, who voices DeVille in the reboot, told A.V. Club. "[In the reboot], Betty is a single mom with her own business who has twins and still has time to hang out with her friends and her community, and I think it's just so great because examples of living your life happily and healthily as an out queer person is just such a beacon for young queer people who may not have examples of that."
While Phil and Lil's mom is a cartoon character, Morales, who publicly came out as gay in 2017, has said she's exactly the kind of toon she would have liked to see as a young girl growing up gay. "Cartoons were hugely influential for me as a kid," she told A.V. Club. "And if I'd been watching Rugrats and seen Betty casually talking about her ex-girlfriend, I think at least a part of me would have felt like things might be okay in the future.".
How Can I Watch The Rugrats Reboot?
The first set of episodes in the Rugrats reboot are now available to stream on Paramount+, CBS and Viacom's new streaming service. A basic subscription with ads starts at $4.99 per month, according to Variety, while an ad-free subscription costs subscribers $9.99 per month.
Rugrats is just one new show coming to Paramount+; the streaming service will be home to the new iCarly revival, expand on the world from Avatar: The Last Airbender, and reboot some beloved MTV series for an extra dose of '90s nostalgia.
But, if you're not looking to subscribe to yet another streaming service, you're in luck. Following its run on Paramount+, all of the episodes from the new series will air on Nickelodeon at a later date.
While you wait for the show to premiere at the end of May, you can stream episodes from all nine seasons of Rugrats on Paramount+ and on Hulu right now.
Additional reporting by Morgan Brinlee.
This article was originally published on