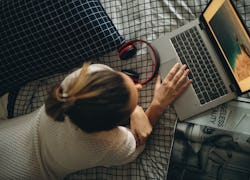 10 Steamy Movies On Netflix That Will *Really* Turn You On
miljko/E+/Getty Images
Grab a glass of wine, curl up on the couch, and Netflix and chill.
The next time you're looking for something spicy to watch, fire up your favorite streaming service. There's no shortage of steamy movies to watch on Netflix, including a few scenes that'll make you wonder just how they got past the site's content policies. In any event, you can find some pretty sexy movies on Netflix for whenever the mood strikes.
Although Netflix does not show pornography, the site's micro-genres can help you find some surprisingly sexy content, according to Bustle. Just look for steamy tags. There's a whole selection of "steamy" films, including some that show content you'd only expect from HBO or similar sites. In fact, in the summer of 2020, the super-sexy film 365 Days set the internet into a tizzy, so much so that there's a 365 Days sequel already in the works, according to Bustle. (People like to look up spicy stuff online. Who knew?)
So the next time you want to get in the mood and need some visual inspiration, these hot movies on Netflix will do the job. Some are serious and filled with drama, while others are more lighthearted and romantic. But they all feature at least a few scenes with kissing (and way more) sexy content.
This article was originally published on