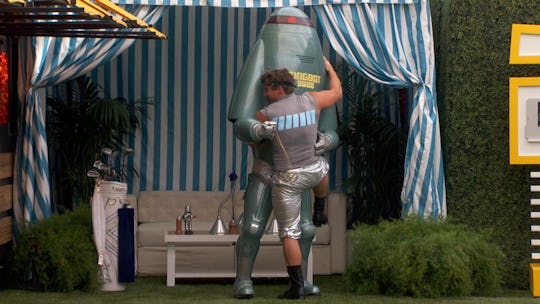 CBS
10 Twitter Reactions To Brett On 'Big Brother' That Show Fans Want Him To Stay
Love him or hate him Brett definitely brings a lot of entertainment to this season of Big Brother. From his ridiculous goodbye messages and diary room entries to his antics in the house, you can always count on Brett for a good laugh. During Wednesday night's episode, Brett's high energy seemed to be at 100 percent and his personality along with his mustache, goatee, and power of veto competition outfit gave Big Brother fans a lot to talk about. Below are the 10 best Twitter reactions to Brett on Big Brother.
When this season of Big Brother first began, Brett was not really on anyone's radar. At the start of the show Brett was only known for his bromance with Winston, but after Winston was evicted it is almost hard to even remember that bromance existed. It was as if once Winston was gone Brett came out of his shell. Not only did he start engaging more with the other houseguests, he also has the other side of the house convinced he is on their side and not in the Level 6 alliance, which is great gameplay on his part. Additionally, he has also cozied up to Haleigh, which infuriates Faysal causing a small amount of drama in the house that is fun to watch.
Somehow Brett has become the talk of the town and even if he does not win this season he will certainly be a Big Brother player to remember. Check out some of what Big Brother fans are saying about him below.