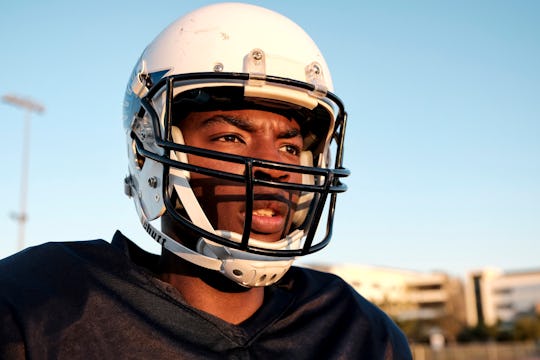 Eddy Chen/The CW
The Setting For 'All American' Is Important To The Story
If you've been feeling an absence in your TV queue for a good teen drama, then All American is here to fill that void. From the previews alone, it looks like it stands to slide into the place that shows like One Tree Hill, Friday Night Lights, and The O.C. left vacant. And like those teen shows of primetime past, it relies heavily on where it takes place. So, where is All American set? The CW football drama draws from real life inspiration, so the setting had to be authentic.
All American is filmed in Los Angeles, California, near Beverly Hills and South Central LA where it is set. The show follows Spencer, a star football player on his Crenshaw high school's football team. When a Beverly Hills high school coach recognizes his talent, he takes him under his wing and gives him the opportunity to play for and attend an upscale high school in place of his own. Since the show goes back and forth between the families and the very different lives they both lead, the setting switches from affluent Beverly Hills homes to the less affluent South Central.
All American was inspired by real life NFL player Spencer Paysinger who grew up in LA and went to Beverly Hills High School in real life before playing college and then professional football. It's unclear how closely the show will mirror the life of Paysinger, but he was the inspiration for All American and to get it right, the setting had to be accurate.
In the show, Spencer leaves his home in Crenshaw to stay with the coach in his family's Beverly Hills home. All American creator April Blair told TV Insider, her goal was to show how difficult it would be for the teen to find a place the two very different worlds. "I love The O.C., but I don't want to do The O.C.," she said. "I want to tell a story about someone navigating two worlds." Luckily for fans, those worlds will look like the real thing since the show is both set and filmed in LA.
Blair also told the LA Times that she wants viewers to see both South Central LA and Beverly Hills through Spencer's eyes. "We really leaned heavily on Spencer [Paysinger] to paint that picture for us," she said. "We really tried to capture… not just the challenges of that neighborhood but the beauty of that neighborhood as well."
The real life Paysinger, who serves as a consulting producer on the show, told the LA Times in the same joint interview that to him, it was important to show his hometown in the proper light. "When we started this, I talked to everyone. I told them South Central has been portrayed so many ways in the media," the NFL player said. "I wanted to implant that family aspect of it."
To keep the show true to its inspiration, British-born actor Daniel Ezra, who plays Spencer, told Entertainment Tonight Canada that he went to a Crenshaw high school to learn from real life students so he could better prepare for his role.
A lot of CW shows are filmed in Canada or Georgia usually thanks to the tax breaks that those locations offer, but for All American, the setting mirrors the real life inspiration. Since the setting for All American is as important as the characters themselves, it's probably best that it's filmed where it takes place.