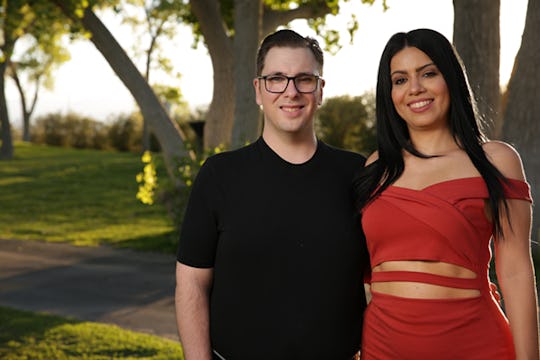 TLC
Colt's Family Is Concerned About His Love Life On '90 Day Fiance'
This season of 90 Day Fiancé features six couples that are all new to the show, so fans have a lot to learn about in the first few episodes. Who is Colt on 90 Day Fiancé? Well, like many of his costars, he's an American looking for love overseas.
Colt is a 33-year-old from Nevada, according to TLC's break down of the 90 Day Fiancé Season 6 cast. His partner this season is 31-year-old Larissa from Brazil. As his biography states, he hasn't found luck finding love in America; he and Larissa met through social media. Both of them went on a trip to Mexico to meet up and after five days, Colt proposed. "Love at first sight" can certainly exist, but that's faster than even The Bachelor proposal timeline, dude.
Anyway, now that they are engaged, Colt and Larissa need to see if they can make it long term. Furthermore, Colt needs to see if his mother likes Larissa. "Colt is a mama's boy and is used to his mom taking care of him and everything he needs, so they both must make adjustments to fit Larissa into their everyday life," TLC's biography says. In the trailer for 90 Day Fiancé Season 6, Colt is seen praising his mother's cooking — likely an indicator of what's to come later this season.
Not only does Larissa have to pass Colt's mother's standards, but she also has to face accusations that she's marrying Colt for the wrong reasons. TLC teases their conflict by saying, "Colt worries that Larissa has the wrong impression of what it means to be American after all of her high-priced demands, while Colt's family worries that Larissa is just using Colt for a ticket into the U.S." While Larissa's high-priced demands aren't seen in the trailer, viewers can see drama between Larissa and the people in Colt's life.
During a scene in the trailer, a friend or family member of Colt says about Larissa, "That b*tch is for his money. Period." Larissa is literally sitting right there (awkward) and responds with, "I'm really tired of your bullsh*t." That guy seems to pretend she's not even there and tells Colt, "She's taking advantage of you and you need to f*cking realize." Oof.
I understand being skeptical of the person your friend/sibling/loved one is marrying — even if they've dated for years. This scenario, though, is quite different: Colt and Larissa met online and got engaged after five days. If I was one of Colt's loved ones, I probably would be wondering if Larissa had the right intentions. I probably would not use that rude of a tone, however.
Besides TLC's cast bio and trailer, fans can find out more about Colt on his Instagram account. He doesn't have many followers yet, and doesn't have anything about 90 Day Fiancé on his biography, but gossip site Reality Blurb found his Instagram when digging to find out whether Colt and Larrisa are still together.
Judging by Colt's Instagram, he's really into cartoons, photography, and food. Most of his posts are animation, but he does post a few selfies here and there. As of writing, there are no photos of him and Larissa on his account.
This is quite a contrast from Larissa's Instagram account, where she's been posting couple selfies for a couple weeks now. Larissa also has the fact that she's on 90 Day Fiancé in her biography. I'm sure Colt will join her in this eventually — perhaps once the season premieres. But for now fans can see more of them both on 90 Day Fiancé.