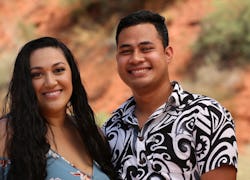 Why Kalani's Dad From '90 Day Fiance' Caused So Much Controversy
Courtesy of TLC
When you join the cast of a reality show, everything you or your family says on said show becomes public information — for better or for worse. And when it comes to 90 Day Fiancé star Kalani and her father, well, it looks like it's worse. So, who is Kalani's dad from 90 Day Fiancé, and why is he under fire at the moment?
Kalani from California, and Asuelu from Samoa, are one of the most talked about couples on Season 6 of 90 Day Fiancé. In last week's episode, Kalani revealed her father's concerns about the relationship — which are causing some controversy amongst viewers. On the show, Kalani explained that her dad preferred his daughters to go out with "white guys," and that he was strictly opposed to them marrying men from Samoa. The catch here? Like Asuelu, Kalani and father are both Samoan.
"You know how I feel about you being with my kind of people," Kalani's dad tells her on 90 Day Fiancé. "It's just the way I was born and raised ... it's a fast life here and it's a slow life there."
"My dad did have a very hard life, and I know he didn't want us to struggle the way that he did," Kalani says in a confessional on the show. "So he wanted us with white guys," she added.
Many fans called out Kalani's dad's remarks by commenting on her Instagram, which prompted her to share the clip from the episode with a lengthy caption defending her dad's problematic statement.
"I've been receiving a lot of messages about the scene with my dad, so I'd like to publicly address that. First, the part where I 'say' my dad didn't want us to struggle so he wanted us with white guys—😐 that is not what was said," Kalani wrote alongside the video. "Rule of thumb when watching reality TV: if you don't see it being said, chances are it was spliced together. I don't care if I get 'in trouble' for saying that, that was bulls—t to be put together in such a way, considering the current racial disparities in the world." Creative editing is par for the course on reality TV shows, so it's plausible that the show's editors really did manipulate Kalani's words.
Kalani also explained that when her dad said he didn't want her marrying a Samoan, he specifically meant a man who was born and raised in Samoa like he was, "not Samoan people as a whole." Additionally, she believes her dad's opinions are his prerogative, and she has a suggestion for those who are offended by his words. She wrote:
My dad can love his country and his people, and still not want certain cultural norms for his daughters. That's his prerogative as a father and as a man who grew up in a male-dominated country. BUT if you still find yourself so utterly outraged after reading this, please make sure to click the link in my bio and donate to the people suffering from some of the cultural norms my dad was concerned about.
That being said, hopefully Kalani's father was able to accept Asuelu into the family, because based on Instagram, it looks like the couple is still together. And at this point in the 90 Day Fiancé life cycle, that can only mean one thing: they are probably married! The 90 days are likely up at this point — plus they already have a baby together.
The couple first met when Kalani was on vacation in Samoa, and Asuelu was working at the resort where Kalani was staying. With the task of raising their son together on top of persuading Kalani's father that they are a good match, Kalani and Asuelu are sure to bring a lot of drama to this season of 90 Day Fiancé.