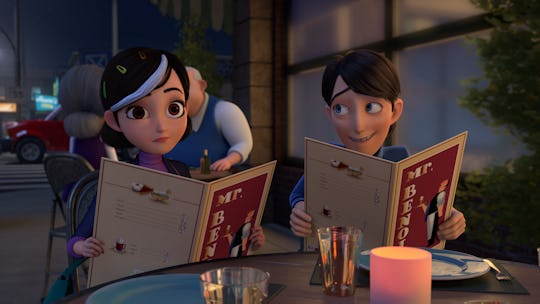 Netflix
Fans Are Still Waiting For More Trollhunters On Netflix
The Emmy-winning series, Trollhunters, was an immediate hit with fans as soon as it hit Netflix. Created by Guillermo del Toro, the show's three seasons follow Jim Lake Jr., as he defends the human world from the secret world of trolls. As soon as Season 3 dropped, fans couldn't help but ask: will there be a Trollhunters Season 4?
Unfortunately, Season 3 was the final season of the animated series. However, Trollhunters is just the first part of Del Toro's Tales of Arcadia series and, although Trollhunters ended for good, there are still two more installments. The second part of the series is 3Below, which premiered in 2019, to be followed by Wizards.
In the third season of Trollhunters, the series added Orphan Black star and Emmy-winner Tatiana Maslany and Rouge One star Diego Luna as two new characters, Aja and Krel, respectively. They are two students who aid the Trollhunters team, which includes Jim and his friends, Claire and Toby, in the fight against Gunmar and the resurrected sorceress Morgana. Maslany and Luna then reprised their roles in 3Below.
3Below is about two royal teenage aliens and their bodyguard who flee a surprise takeover of their home planet by an evil dictator and crash land in Arcadia. Those two aliens are, you guessed it, Aja and Krel, which nicely weaves together the plots of the two series.
In addition to Maslany and Luna, Trollhunters also added Emile Hirsch to the cast in the third season. Hirsch took over the role of Jim, who was originally voiced by the late Anton Yelchin.
Although the actor passed away a couple of years ago, Yelchin had already completed his work for the first two seasons and a large portion of Season 3 before his death. According to Deadline, Del Toro and his creative team found a unique way to organically incorporate a voice transition into the show's story and create a path for Hirsch to take on the role. Thus, Yelchin's performance has been left mostly intact, with some portions merged with Hirsch's performance to complete Season 3. Hirsch was also a dear friend to Yelchin, and so was a perfect fit to continue Jim's story.
The final season of Trollhunters ended on an emotional note — and fans are right to feel that the story is not quite finished. The spinoff, 3Below, takes place in the same universe and, of course, includes some vital crossovers between beloved characters. And by the end of 3Below Season 2, the board has been set for Trollhunters and 3Below to come together for the trilogy's final installment, Wizards. Very little can be said at the moment about what the plot of Wizards will be, but it stands to reason that it could mean the return of this universe's best-known magical practitioners: Merlin and Morgana.
So technically speaking, there is no Trollhunters Season 4. But Jim's journey was far from over after Season 3, and it doesn't look like the end of 3Below means the end of Aja and Krel. Now fans will just have to wait for Wizards to see how this all shakes out.
All seasons of Trollhunters and 3Below are now streaming on Netflix.
This article was originally published on