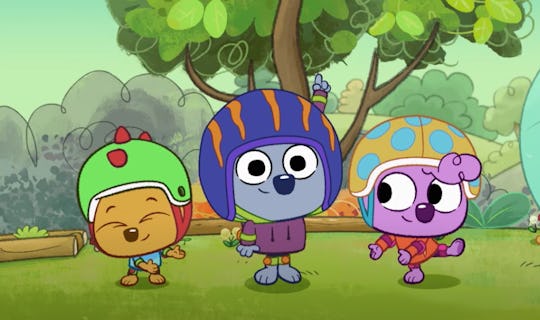 PBS Kids
Three Adorable Wombats Learn To Solve Problems In PBS Kids' New Show
Malik, Zadie and Zeke always find a way to take a minute to brainstorm a solution that can work for them.
From Sesame Street to Curious George, Wild Kratts to Dinosaur Train, PBS Kids has long been a destination for adorable, educational children's content. And now the network has announced its latest show: Work It Out Wombats!, which will introduce young viewers to computational thinking concepts not only serve as the basis of computer science, but will help kids solve meaningful problems. The new series will debut on PBS Kids on Feb. 6, but Romper has an exclusive sneak peek right now!
The preschool series stars a playful trio of wombat siblings — Malik, Zadie and Zeke — who live with their grandmother, Super, in Treeborhood, a treehouse apartment complex complete with secret passageways, gondolas and rope swings. Alongside snakes, moose, kangaroos, iguanas, fish, tarsiers and eagles, all residents in Treeborhood bring different skills and ways of thinking into their vibrant community and everyone, from children to adults, love to play.
The Wombats, like the preschool audience they're intended for, love exploring their world, even if they're still learning how to navigate it and the various problems they face. Sometimes, their ambitions exceed their abilities, but they always find a way to take a minute to brainstorm a solution that can work for them, often by breaking down a big problem into several smaller problems, as we see in this exclusive clip in which Malik, Zadie, and Zeke are tasked with planting an entire garden of tomatoes!
"Work It Out Wombats! strikes a perfect balance of telling stories for preschoolers that are educational, fun and engaging. Bringing an exciting world filled with diverse characters to life has been incredibly empowering for our artists and technical talent," said Luis Lopez, executive producer at Pipeline Studios.
Each episode includes two 11-minute stories and a 90-second music video. Work It Out Wombats! games will launch in tandem with the series on pbskids.org and the free PBS Kids Games App. Parent and caregiver resources, including tips and hands-on activities, will be available on PBS Kids for Parents to reiterate and expand a the lessons children clean from the series. PBS LearningMedia will offer classroom-ready materials, including videos, games, teaching tips and printable activities for educators.
Work It Out Wombats!, produced by GBH Kids and Pipeline Studios, premieres on Monday, Feb. 6 on PBS Kids.