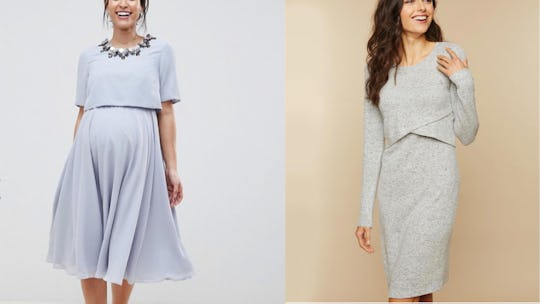 15 Cute Breastfeeding Dresses For Holiday Parties That Are Comfy & Practical Too
Tons of breastfeeding moms will probably tell you that nursing and fashion don't really mix. Much of your wardrobe gets banished to the back of your closet, because trying to breastfeed in certain types of tops and dresses just doesn't work. If you're dreading the upcoming holidays because you've just got nothing to wear, don't worry — there are lots of cute breastfeeding dresses for holiday parties that you'll look and feel amazing in.
Breastfeeding is really hard work — mentally and physically. It also affects every mom's body differently. I know moms who've said it made them gain lots of weight (because breastfeeding hunger is no joke), and others who've said it made them lose lots of weight (because it burns tons of calories). You might be a little uncertain about what size you should actually be wearing because of that, but luckily many of these dresses can be worn at different sizes and still feel great.
I've breastfed two babies, but I've never invested in any breastfeeding specific clothing. To me, much of it just *screams* nursing wear, and isn't all that fashionable. But with a little digging, I've found that cute breastfeeding-friendly options really do exist.
Here are 15 dresses that are both pretty and practical to wear this holiday season and beyond, whether you're nursing, pumping, or both.