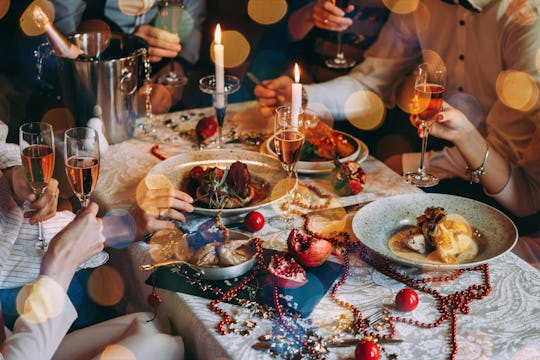 Yulia Grigoryeva/Shutterstock
18 Lucky New Year's Eve Crock-Pot Recipes, Because 2020 Is Gonna Be Your Year
The year is almost over, so it's time to start prepping for your New Year's Eve bash. Whether you're having a blowout with all of your pals or you're just hanging at home with the kiddos, you're gonna be celebrating the end of the year in style, and your Crock-Pot can help you do it. That magical little device allows you to serve your guests a brilliant meal without having to be chained to the kitchen, so put it to good use with one of these slow-cooker recipes for your New Year's Eve party.
New Year's Eve eating traditions center on bringing good luck for the next twelve months, and there are actually a lot foods that can set you up for success. Real Simple reports that black eyed peas, pork, cake, and lentils are all supposed to give you an edge in the new year, as well as a myriad of other dishes. Drinking is also usually a big part of December 31 celebrations, as I'm sure you're well aware, and you can combine some of the luck-oriented ingredients with something a little stronger if you're planning on indulging. Pomegranates and oranges are both great options for a fortunate beverage, according to Reader's Digest.
Preparing the traditional dishes and cocktails in your slow-cooker lets you party it up without having to check in on the progress of your food every two seconds, so read on for some creative ways you can use those lucky foods in your Crock-Pot this New Year's Eve and get excited for all the good things coming your way in the new year.
This article was originally published on