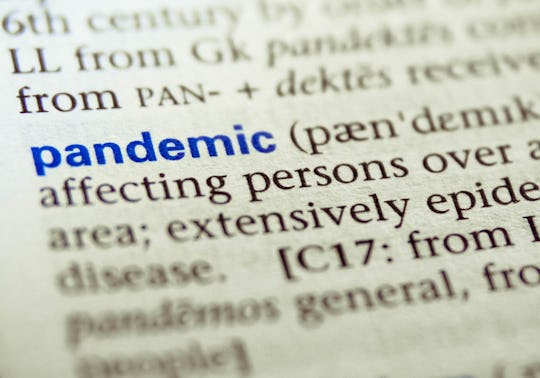 Kinga Krzeminska/Moment/Getty Images
If Moms Chose 2020's Word Of The Year...
... Because "pandemic" only begins to describe our 2020 experience.
Since 2008 and 2010 respectively, Merriam-Webster and Dictionary.com have chosen a "Word of the Year" based on increased interest in a given word (as measured by how much more it's been looked up as opposed to previous years) and the general zeitgeist. The first Word of the Year, for example, was "bailout" in 2008. In 2019, Merriam-Webster chose "they" (as in the use of "they" as a singular pronoun) while Dictionary.com opted for "existential." But in an historic first, both companies have chosen the same word – the 2020 Word of the Year is "pandemic." And, really, was there another option? Well, in general, no. If you're a mom... possibly. Because "pandemic" only begins to cover it.
Look, I'm not going to do that thing where I act like mothers are the only people who have it hard right now. Everyone has it hard right now. We're all facing new challenges and seemingly impossible struggles. But the challenges and struggles of moms have been particular, pervasive, and well-documented. We know that in the absence of in-person school and sufficient social supports, it's moms who are picking up the slack. We also know that this is not only hurting our mental and physical health, but it's also negatively affecting our careers. In September alone, according to the Bureau of Labor Statistics, 865,000 women left the workforce, a rate four times higher than male workers. Analysis from McKinsey and Company suggest that the job losses women in particular have suffered as a result of the pandemic have set back decades of economic and career progress for women.
All this is hard evidence. But anecdotally? All you need to do is to ask literally any mother right now "Hey, how are you holding up?" Their rueful chuckle and far-off stare speaks volumes. We're not OK and everyone knows it, but the overall response from basically everyone, including from those with the power to do something, is a sad shrug and a "Well, what can you do?"
So with that in mind, while "pandemic" encapsulates the 2020 experience, here are some other words that speak specifically to how many moms have plodded through the past nine months.