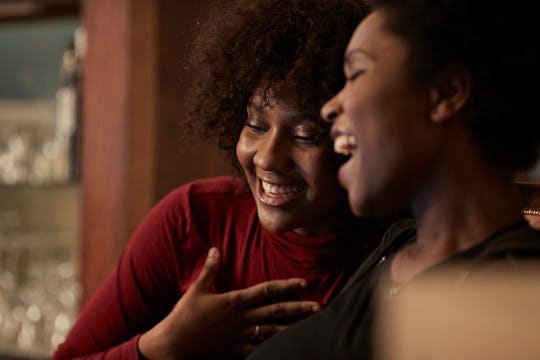 Klaus Vedfelt, Getty Images
35 Short N' Sweet Instagram Captions For That Adorable Pic Of You & Your Bestie
Because you go together like peanut butter & jelly.
Back in elementary and middle school, you declared your love for your best friend with a necklace or a bracelet, but nowadays it's all about showing some social media love. The best way to do this, in my opinion, is with pictures and short best friend captions for Instagram. Sure, they say a picture is worth a thousand words, but a few extra from your heart certainly won't hurt.
Once you enter adulthood, you start to see just how rare a true best friend is. They're the person you can vent to when your partner is on your last nerve, the one who whisks you away for a night when parenthood is getting the best of you, and the first one to show up to your house with a frozen lasagna after you've had a baby or lost a loved one. Honestly, your grown-up BFF probably deserves a best friend necklace that's covered in diamonds for all that they do.
Unfortunately, diamonds aren't cheap, so public declarations of love and appreciation will have to do for now. Now's the time to dig up some of your favorite shots of the two of you from over the years and start posting them on Instagram. If you're at a loss for words, try some of these short, sweet, and totally accurate captions.
This article was originally published on