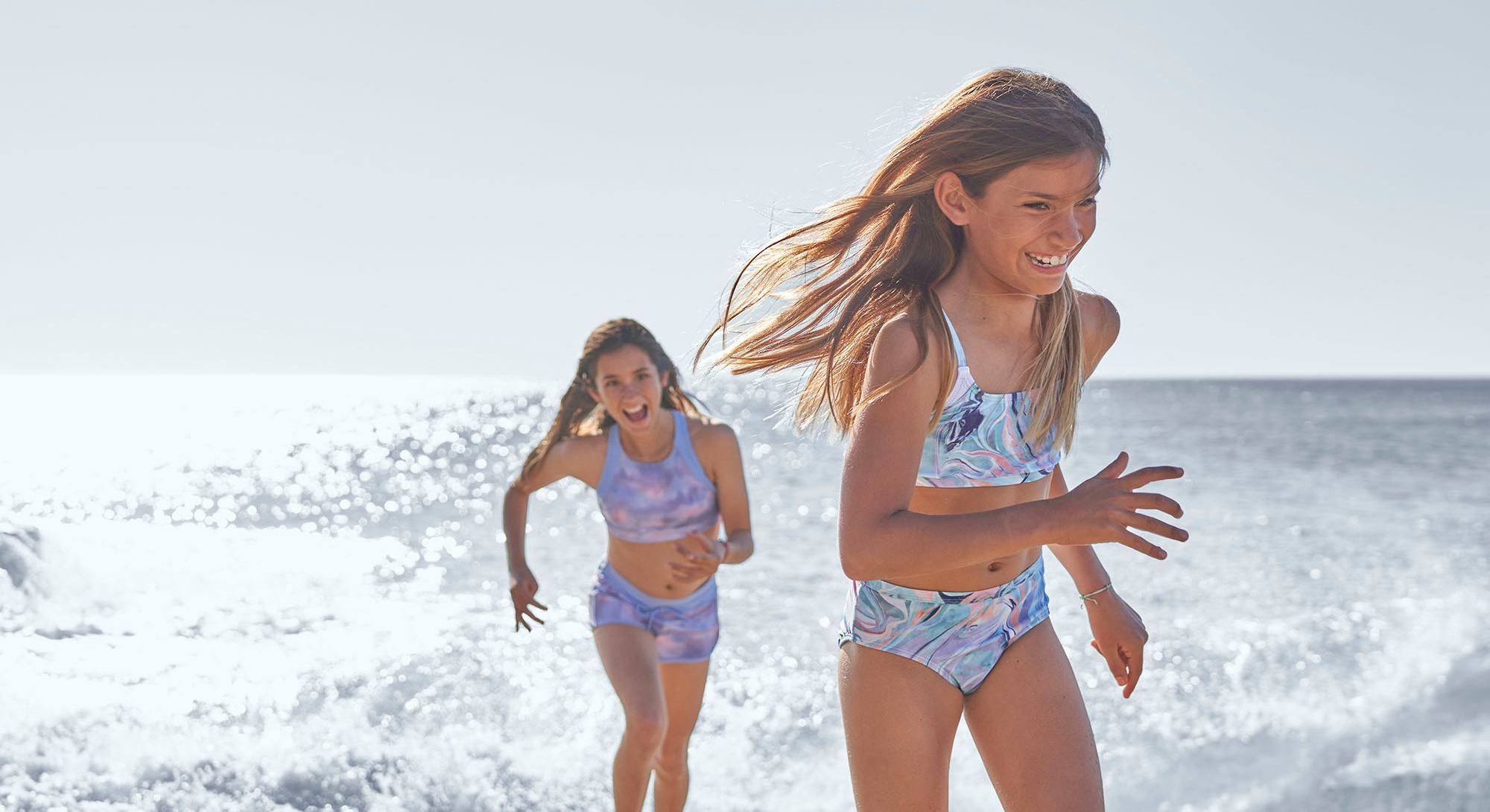 3 Summer Swim Looks That'll Help Every Girl Feel Confident
Get her ready to dive into summer.
There's nothing quite like a summer day — especially one that includes a pool, a beach, or a sprinkler. For most of us, it's been a year of staying inside, and we're more than ready to welcome the warmer weather and the outdoor adventures that come along with it.
While a lot has changed, one thing hasn't: it's far from easy to be a pre-teen girl, wanting to look and feel grown up, but still figuring out how to express yourself through what you wear, particularly during summer. That's why I've made it a point to seek out brands that specifically design clothing to help bring out confidence in my daughter as she moves, swims, and plays.
Because isn't that the dream? To feel emboldened to choose clothes that are comfortable and functional, but to also seek out the fun patterns, styles, and colors you love? Speaking as one girl mom, I'm going with "yes."
Romper teamed up with Athleta Girl to put together a summer swim look book that checks all the boxes. With these fresh, high-performance pieces, your daughter can dive right into summer wearing clothes she doesn't have to think twice about, giving her time to focus on what really matters: growing, learning, playing, and becoming the person she's meant to be. Keep scrolling to shop our favorite Athleta Girl picks.
For the most active of beach days, only a one piece will do, and you can't go wrong with this sleek, colorful palm print. This suit can handle whatever the beach throws at it, so she can play and swim for hours without worrying about constantly adjusting. While skorts are a wonderful invention all around, this one is particularly on point with a secure back pocket, plus a sneaky pocket in the shorts made for tennis balls or other treasures. Top it with a super soft organic cotton zip-up jacket in the same color for a breathable layering piece that's also wrinkle resistant.
The whole look will mix and match with the rest of her closet, and get this: the organic cotton is grown without unhealthy pesticides — good news for her, and for the earth. The finishing touch? Pull back her hair with an elevated blue headband to ensure nothing gets in her way.
I know this is a very "mom" thing to say, but I so wish this swimsuit came in my size. The cool, ocean-colored marble pattern would work on literally anyone, and the over-the-shoulder design keeps the top securely in place so she doesn't have to worry about tugging on it while catching a wave. While I do love a good one-piece, I've recently learned to make sure we always have a two-piece on hand, since it seems like my daughter's torso gets longer every day.
Instead of a typical swimsuit coverup, go for this blue romper made of soft organic cotton with plenty of pockets and a drawstring design that lets it grow with her. Finally, bring out the violet from the marble swimsuit with a set of super stretchy scrunchies, perfect for taming flyaways.
With so much summer fun to be had, a reversible swimsuit like this two-piece is just the ticket for a little variety. Whether you're feeling the warm-toned palm print or the cool blue geometric look, there's something for every mood. Even though it's a bikini, it's built with all of the staying power necessary for swimming, surfing, paddle boarding, or any other adventure your girl can think up.
Build on the look with a pair of lightweight shorts (with pockets!) in a dreamy peach color. They come with a built-in brief, so she's never worrying about lines or coverage when she's diving for that volleyball, hiking, or going about her day. Add a light, breathable sweatshirt with a fun tie-dye print and thumbholes to keep her cozy without added bulk, whether she's suiting up for a bike ride or a game of pick-up soccer. Top it off with these soft blue scrunchies that go with everything and keep hair from flying around while she's on the go.