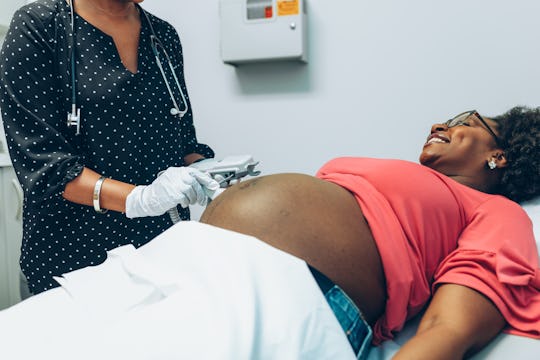 Diversity Photos/Photodisc/Getty Images
Doctors Explain 4 Prenatal Screening Tests That Are Totally Optional
If you're pregnant, you've probably seen the pamphlets in your doctor's office advertising the various prenatal and genetic tests available to you, but what do they all mean? While your doctor will likely advise you on what tests are recommended for your specific case, there are several prenatal tests you have the option to take, whether your doctor mentions them or not.
Dr. James Grifo, M.D., a reproductive endocrinologist from the obstetrics and gynecology department at New York University's Langone Medical Center, tells Romper that actually, "all tests are optional." Even prenatal tests that have become standard — such as anatomy scans, blood tests that look for blood disorders, and various types of urinalysis — aren't mandatory. They are encouraged, though, so that the your doctor can track you and your baby's health and progress.
Whether or not you choose to take optional prenatal tests to determine your baby's risk of certain health conditions will depend on your individual history and personal choice. For example, if your family history includes genetic or blood disorders, you might opt to take carrier screening tests to determine your baby's risk of inheriting a certain disease. Many of the tests pose no risk to the fetus (in fact, many can be done before you're even pregnant), Dr. Grifo notes. It is also important to consider the costs of these prenatal tests and to have a conversation with your insurance carrier to see if they are covered.
Here are the four most-common categories of optional prenatal tests available right now.