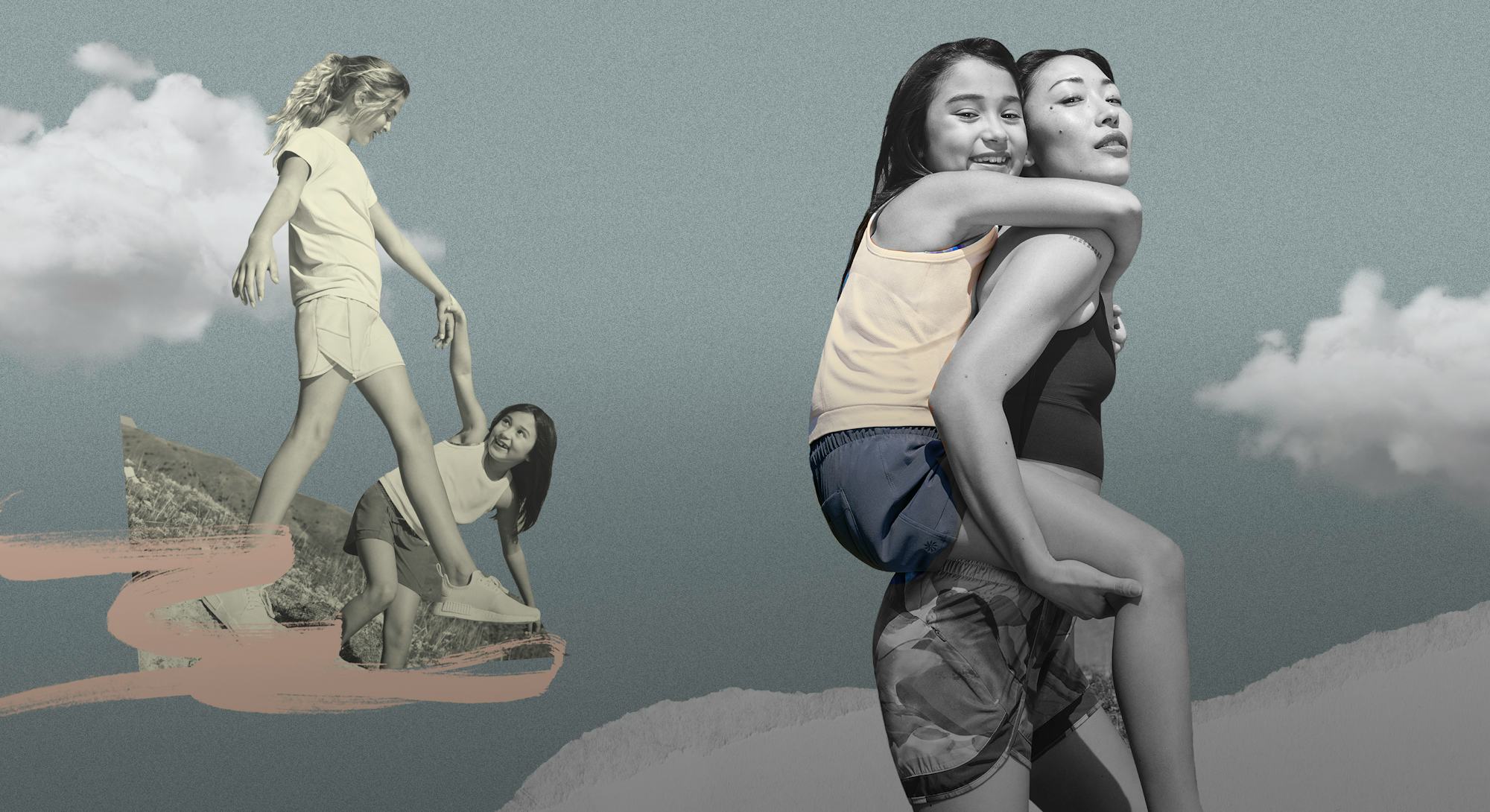 5 Outfits That Will Hold Up To All Your Girl's Summer Adventures
Make it one she'll never forget.
Where I grew up in northern Massachusetts, summer days were for beaching, hanging out with friends, and finding adventures wherever we could. I loved the freedom of that time. You probably remember it, too: an era in life that's so fun and exciting you never want it to end.
You may not exactly be able to relive those perfect pre-teen summers, but you can help your own daughter savor the long, warm days while they're here. That means getting her out in the world and outfitting her in the clothing she needs to tackle a season full of new experiences, while still feeling (and looking!) her best. Athleta Girl's new short styles are perfect for a day spent making memories in the sun, providing a solid, confidence-boosting foundation for girls on the go.
With fresh colors and prints, these shorts pair easily with other soft, breezy pieces, making for looks that work whether she's doing cartwheels or just kickin' it, vacation-style. Keep scrolling for five outfits that'll help her head into summer at full speed.
1. A Uniform Fit For Any Activity
Every girl needs a go-to summer look that works no matter what type of adventuring she gets up to. Pair a vibrant tie dye tee with the sleek Chit Chat Short 2.0 for a look that's hard to beat, but easy to create memories in. These breathable and quick-drying shorts put her legs first. She'll run faster, jump higher, and chase her dreams (or her friends) without ever worrying about tugging or excess sweat. Underneath, a sturdy racerback bra provides comfy support and accents the tee perfectly.
2. A Standout Combo With A Pop Of Rainbow
For those summer days when your girl really wants to make a splash (all-day games of tag, anyone?), suit her up in a non-chafing, seamless peach tee paired with the Stash Your Treasures Bike Short in a beautifully contrasting periwinkle. Made from buttery soft Powervita™ fabric, these shorts are comfortable and gently snug. They also have streamlined side pockets, where she can stash her keys, phone, and other treasures she finds along the way. Kick this outfit up another notch with a rainbow tie dye bra that'll make her feel like the most magical version of herself.
3. A Perfectly Color-Blocked Pairing
For outdoor exploring, hiking, or playing once the weather gets hot, turn to this loose-fitting, lightweight tank. Mesh detailing adds much-needed ventilation, and the melon hue means she'll be easy to spot, no matter how far she ventures. Add the All Play Farallon Short, a breezy short with pockets and an adjustable waistband for the ultimate can't-stop-her vibe. Made from organic cotton, she'll be comfy in them, and you'll be happy that they're rated UPF 50+. Finish the look with a strappy bra with built-in mesh ventilation, so she never feels weighed down.
4. A Camo-Centric Look That Holds Up
When she's at her most active, say, racing through an outdoor obstacle course or perfecting her tree-climbing skills, this long-fitting, non-chafing tank will give her the comfort and coverage she needs. The neutral camo print will look great with the Solid Record Breaker 3" Short in a neon peach, which boosts a built-in brief for extra coverage, and even comes with its own hair tie. Finish it off with a softer-than-soft bra that's flexible racerback design means it'll never slow her down.
5. A Best-Of-Both-Worlds One-Piece
On those days when she can't decide between a dress and a shorts-and-tank combo, the Havin' a Great Time Romper in a one-of-a-kind grey tie dye pattern is the only suitable solution. Made from organic cotton, this romper gives off the ultimate beachy vibes, plus it cinches at the waist so it can grow with her. Add a bright blue sports bra underneath for a pop of color that's made from recycled nylon so she can lessen her impact on the world as she explores it.