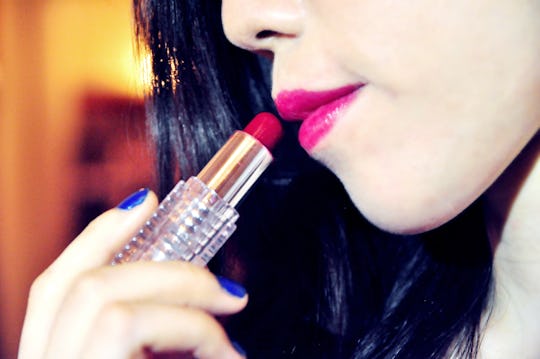 5 Tips For Choosing The Best Lipstick For Your Skin Tone & Avoid Looking Like You Made Out With A Clown
Lipstick is one of the quickest and easiest ways to liven up your look. If you're a sucker for a monochrome outfit, like me, adding on a bold lip can add a bit of edge and color to an otherwise simple style, while the perfect nude lip can really compliment a smokey eye. But searching for the perfect color at the beauty counter can be a little overwhelming, as there are endless options to choose from. So if you've found yourself gazing at a rainbow line of testers and wondering how to choose the best lipstick for your skin tone, you're not alone.
Brand's lip collections are continually growing, with good old bullet form lipsticks remaining popular and celebrities like Kylie Jenner inspiring a love for liquid lipsticks this season. Different textures and formulas are fun to play around with, but figuring out what color you should invest in is important to finding a signature hue that compliments your complexion. These days it isn't just a case of figuring out which shade of red, pink, or brown will work, because you will find everything from classics like soft pinks, neon oranges, and stunning deep berry tones to fun, modern shades like turquoise.
To help you better understand your lip color options, here are some handy tips to take with you next time you hit up Sephora.