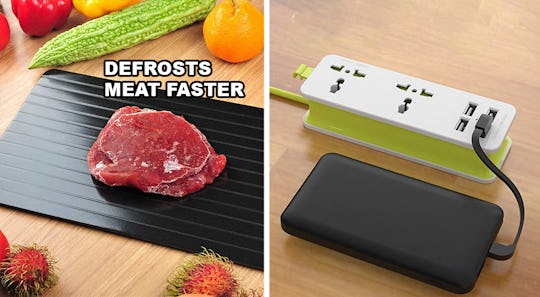 57 Absurdly Practical Products On Amazon That Are Under $20
Romper may receive a portion of sales from products purchased from this article, which was created independently from Romper's editorial and sales departments.
Splurge-worthy products that will satisfy your desire to spend money on luxurious items you'll use once and never again are a dime a dozen. But let's be honest: these absurdly practical products on Amazon that are under $20 are the items you'll keep running back to time and time again. For starters, they work really well. And, this is worth mentioning twice: they cost less than $20 and won't break the bank, but considering how often you'll use them, they're priceless.
You don't necessarily have to be shopping for anything, in particular, to fall head over heels in love with useful products like the travel gadgets or weird kitchen tools on this list. At some point, you'll need to peel herb leaves from stems or pack a million items into one tiny suitcase and these practical products will be there to give you back your time — and to even make these chores kind of pleasant, if you can believe it.
The same holds true for gadgets for tech lovers, beauty lovers, and even tea lovers who prefer loose leaf tea to tea bags — and there's a product on this list for every practical person on the planet. And if you just happen to be a practical person who loves nothing more than saving money, prepare yourself, because you're going to want to snag every item on this list.
This article was originally published on