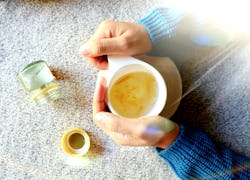 7 Surprising Side Effects Of Drinking Collagen That You Need To Know
Shutterstock
Scan the shelves and pages of stores both in-person and online and you'll see it: collagen. It's in skin creams promising to do away with wrinkles, pills claiming to ease achy joints, and powdered in colorful containers waiting to be consumed. Is it just a health fad, or are the benefits real? Well, if you're enticed by the thought of putting a spoonful of healthfulness in your coffee, there are some surprising side effects of drinking collagen that you need to know.
First off, collagen is a connective tissue that you naturally produce in your body. It's more difficult to produce enough collagen as you age, however, so some people turn to other sources (like supplements and cosmetic procedures) to get what they're hoping are some of the same effects that they'd get from the collagen their body produced.
"Collagen protein fills a gap in the modern day diet; it is not just a flash in the pan," Pamela Schoenfeld, a registered dietitian and author of The Collagen Diet: Rejuvenate Skin, Strengthen Joints and Feel Younger by Boosting Collagen Intake and Production, tells Romper by email. "You don't have to buy collagen protein in powder form. Foods like bone broth, gelatin desserts and salads, oxtail soup, short ribs, and chicken wings are great sources."
Still, if you're going to use a powdered collagen (or another form of the supplement), which Schoenfeld says can be easiest and most effective, it's a good idea to know what sorts of side effects might come along for the ride.
This article was originally published on