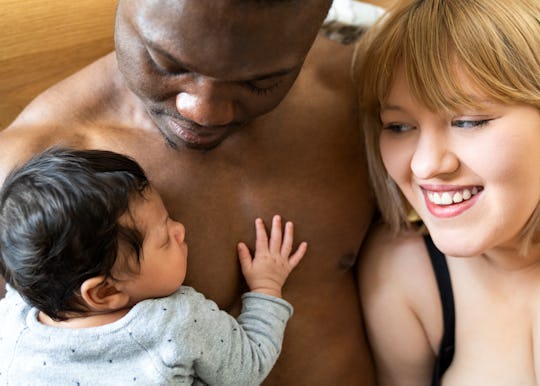 Portra/E+/Getty Images
8 Fascinating Things You Never Knew About Men's Nipples
How much time do you spend thinking about the nipples on a man? Probably none. Well, the fascinating things you never knew about men's nipples might change the way you look at dude nips forever, because there's actually a reason why they're there.
Some such fascinating facts about men's nipples includes their ability to lactate, chafe, bleed, and feel, and that the reason they exist is the same as the reason why women's nips exist. As far as body parts are concerned though, male nipples receive a lot of flack. In fact, a quick search for "why do men have nipples?" brings up about 1,440,000 Google results, with the first several pages of results focusing on that question alone. The very fact that male nipples exist seems to cause a lot of confusion. For a body part that doesn't appear to cause much trouble, the male nipple is subject to a lot of derision. Colloquially, comparing something to "tits on a bull" is another way of saying it's useless, according to the Glossary of Idioms. Pity the male nipple — the reason for its existence is constantly questioned, and it's often written off as useless.
Although they may not be used to breastfeed children, the male nipples deserve some more respect. Biologically, historically, and culturally, the male nipple has accomplished quite a bit for a so-called useless organ. Hey, you never see an appendix leading the charge on an Instagram campaign, do you?
Wasn't that thrilling?