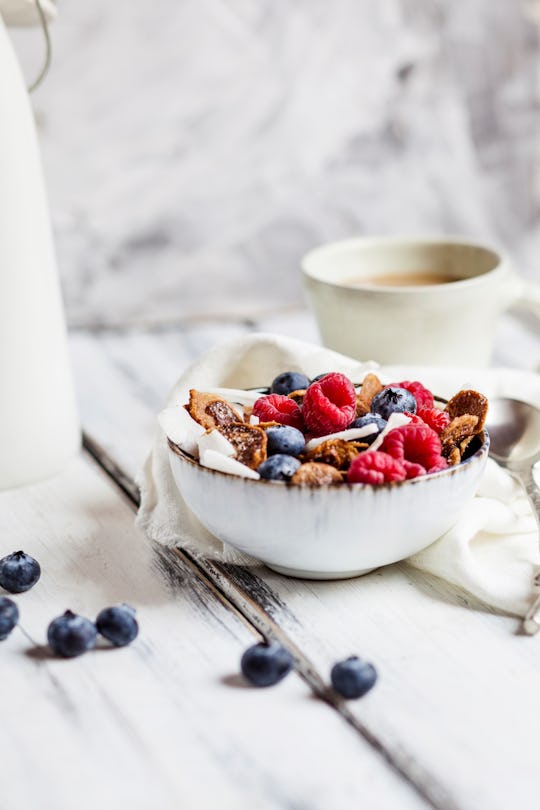 Westend61/Westend61/Getty Images
9 Fruits To Eat When You're Breastfeeding For Better Milk Flow
You know the saying, "an apple a day keeps the doctor away?" Well in the case of breastfeeding mothers, it isn't just any old apple. Or any old fruit, in fact. Nope. All fruits are not created equal. Your needs as a breastfeeding mother are different than they used to be. And so, there are some stand-out fruits to eat when you're breastfeeding.
As many new moms know, one of the most important goals during breastfeeding is maintaining an adequate milk supply. As dietician and nutritionist, Brigitte Zeitlin, founder of BZ Nutrition, explains to Romper, eating lean proteins, a wide array of veggies, and whole grains is imperative for breastfeeding moms and can really help keep up that milk supply. In addition to those foods, adding two servings (around two cups) of fruit per day can provide new moms and their babies with even more crucial nutrients. But as mentioned, not all fruits are created equal when it comes to breastfeeding benefits. Some fall into the category of "galactagogues." From the Greek "galacta," meaning milk, galactagogues are foods that are thought to help increase milk production, according to Healthline. And while there's "little medical evidence to support the idea that any single food can boost milk production," anecdotal evidence is strong. Plus, "some of the foods anecdotally believed to be galactagogues fall in line with a healthy diet" anyway, and fresh fruit definitely qualifies as a beneficial addition to your daily menu.
As a new mom, it may feel hard to find time to do anything during the day... even eat. So make sure you're really maximizing your meal and snack times. The great thing about eating a diet chock full of breastfeeding-geared nutrients is that both mama and baby will get exactly what they need. So if you're looking for fruits that'll help with your flow, here are nine of the best picks for breastfeeding moms.
This article was originally published on