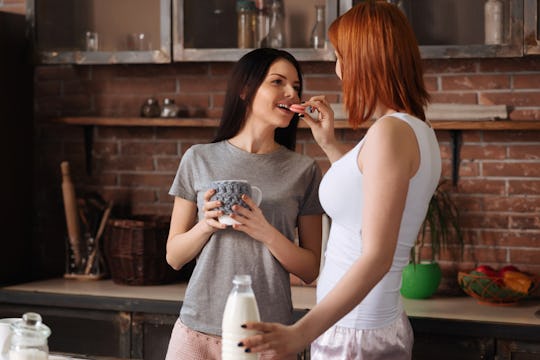 zinkevych/Fotolia
9 Signs You're Sexually Attracted To Someone, But Not In Love With Them
How to tell the difference.
Lust and love can be extremely confusing, especially when sex is involved. As you probably know, lust is that exciting and euphoric stage of courtship. It's often really intense and can be confused with love. Add sexual attraction to the lust and you have the perfect recipe for romantic befuddlement. So what are the signs you're sexually attracted to someone, and not actually in love? How do you know that it's just a little fun and not something more long lasting? It turns out there are some pretty obvious markers to help you figure it out.
Before getting into the signs, you should know how lust and attraction begin. It's often thought that emotions are involved in being sexually or physically attracted to someone. After all, you feel all types of things when you see a hot person walk by on the street. But real and deep feelings aren't involved initially. The laws of sexual attraction are actually rooted in science (sorry if this doesn't sound too sexy). Humans are physically attracted to one another at the biochemical level via scent, pheromones, and voice pitch, according to a HuffPost article. This doesn't mean sexual attraction can't eventually turn into something long term, but it's good to recognize the difference.
Knowing what type of relationship you're in (and what kind you want) can help you make crucial decisions about that person and your love life as a whole. Here are nine things to look out for when trying to decide if you're just totally hot for a person, or you're really in love.