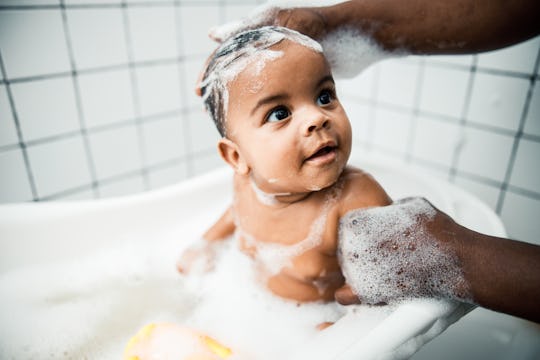 Olena Yakobchuk / Shutterstock
The 5 Best Baby Shampoos That Are Super Gentle
We only recommend products we love and that we think you will, too. We may receive a portion of sales from products purchased from this article, which was written by our Commerce team.
Regardless of whether your baby has a full head of hair or just a bit of fuzz, you'll want to use one of the best baby shampoos in order to keep their scalp clean. The best choices are gentle enough for babies, which means they're free of harsh ingredients like parabens, phthalates, dyes, and sulfates which can potentially be irritating to delicate skin. Also be sure to choose a shampoo that's labelled "tear-free," meaning it shouldn't irritate your baby's eyes even if it accidentally ends up in them. Pay attention to whether or not the shampoo has fragrance — you may enjoy how your baby smells after using a fragranced shampoo, but you may prefer to avoid fragrances if your baby has sensitive skin, since fragrance can cause allergic reactions or make skin overly dry.
Many baby shampoos tout other benefits that are worthy of attention. Some have the ability to prevent or reduce cradle cap thanks to ingredients like salicylic acid, while others are super hydrating because of ingredients like ceramides. Some shampoos are specifically designed for eczema-prone skin, boasting the National Eczema Association (NEA)'s seal of acceptance. While buzzwords like "hypoallergenic" and "natural" may look good on the bottle, there isn't any federal regulation around using either term, so a fragrance-free shampoo with that NEA seal might be a safer pick if your baby has sensitive skin. If using vegan products is important to you, there are baby shampoos that don't use any ingredients derived from animals available. Finally, many baby shampoos also double as a body wash, so keep an eye out for those if you'd rather not worry about switching products halfway through your bath-time ritual.
Parents on Amazon indicate that they love using these five baby shampoos to make their little ones squeaky clean without irritation. The products are all specifically designed for babies, so they're designed with gentleness in mind.