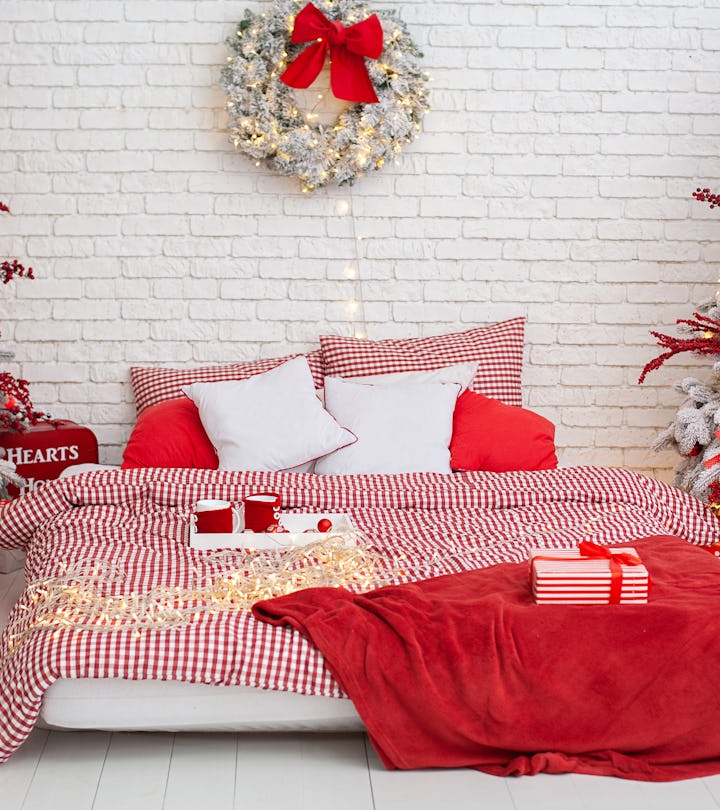 Shutterstock
15 Christmas Bedding Pieces For A Magical Silent Night
Make this Christmas the coziest one yet.
I never considered myself a big "Christmas person" in the past. I liked it, of course, but I couldn't relate to the people who went all out. But then I had children. Now, we're doing all of it: the Christmas music, books, and themed jammies, the gingerbread houses, the Santa pictures, the frigid walks around the neighborhood just to see lights. And my newfound Christmas cheer has infiltrated our bedrooms — who doesn't want to be bombarded with merriment the moment they open their eyes? Put on your Christmas pajamas and tuck yourself into some of the most festive, most deliciously cozy Christmas bedding.
In previous years, before I had two little elves of my own, I didn't really understand the point of buying things you would only enjoy for a short time, once a year, like Christmas bedding. It wasn't until last Christmas that I had a very important epiphany — investing in something that we'll use year after year after year is actually priceless. Do you remember your parents pulling down the boxes of Christmas decorations each year as you giddily went through all of the items you associated with the best time of the year? It's like seeing an old friend for the first time in forever, and those are some of my most cherished memories. They're the ones I want to give to my children, maybe even with Christmas bedding.
I'm not here to necessarily sell you on Christmas bedding — or Christmas sweaters or coffee mugs or matching family pajama sets — but I am here to remind you to silence those Scroogey thoughts once in awhile. If you're in a position to splurge a little bit on completely unnecessary yet totally special Christmas bedding... I highly encourage you to.
We only include products that have been independently selected by Romper's editorial team. However, we may receive a portion of sales if you purchase a product through a link in this article.
For the 4th of July, we buy American flag outfits and fireworks. For Halloween, we buy pumpkins and silly costumes. And for Christmas? For Christmas we buy matching pajamas – and some of this holly jolly bedding – because this is a holiday all about snuggling up with the people you love.