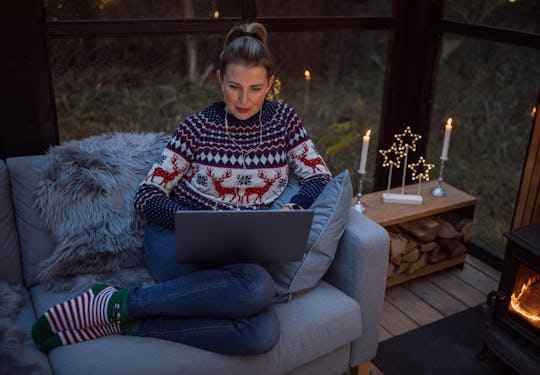 svetikd/E+/Getty Images
11 Festive Holiday Podcasts To Get You In The Spirit
Yes, there is Christmas murder. You're welcome.
I am a podcast addict. I subscribe to well over a dozen, and there's nothing I love more than just hanging out and listening. They are such a good way to chill out when running or cooking or even taking a shower. Themed podcasts are some of my absolute favorite, and many shows have holiday episodes or limited series. The best holiday podcasts run the gamut from true crime to old-fashioned radio shows to shows that are a bit more R-rated.
Podcasts are great because no matter what you're looking to listen to or hear about, there is a good chance a podcast exists for you. No, not all of them are child-friendly, but that's why the universe brought us headphones and nap time. My personal favorites are all adult shows — Pod Save America, Scissoring Isn't A Thing (SIAT), You And Me Both by Hillary Clinton, Off Book! The Improvised Musical Podcast, and Getting Curious with Jonathan Van Ness. On the weekend, I love Serial and Our True Crime Podcast because I guess I save murder for Saturdays? But at the holidays, I want it to be all Hanukkah and Christmas all the time. And I've found the best of the best of holiday shows and episodes that really fill the need for some great holiday content.