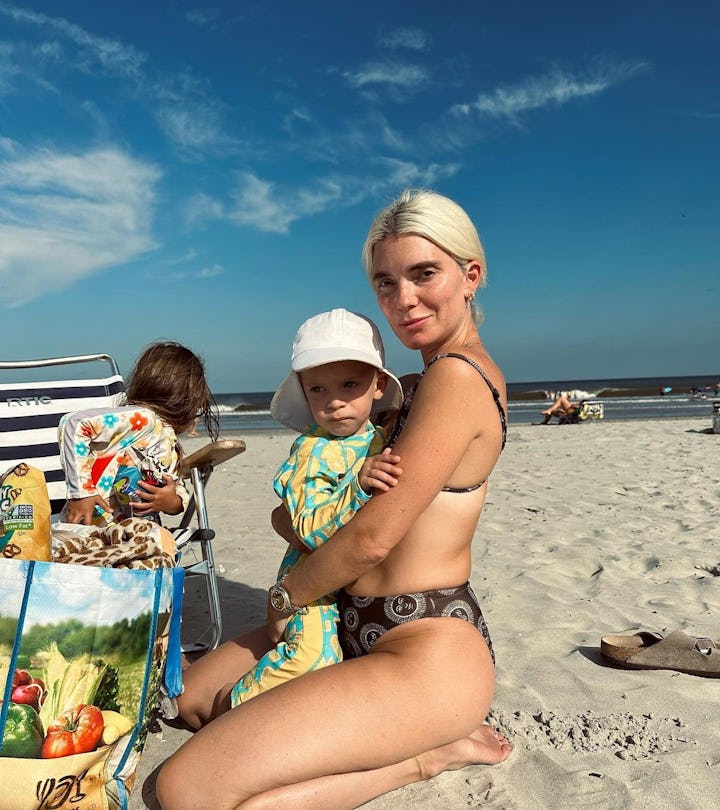 7 Well-Traveled Moms On The Best Luxury Family Hotels
Kids and parents alike will appreciate what these resorts have to offer.
Written by Carly Cardellino
You know how the saying goes: Going away with kids is a trip, not a vacation? Well, it doesn't have to be that way. Contrary to conventional wisdom, a good time can be had by all on a family vacation. It's all about the destination. It's important to find a place that caters to both the parents' needs (like a good spa and plenty of space for relaxation), while keeping kids entertained and happy (hi, incredible kids' clubs!). As someone who has traveled extensively both solo and with my family, I'm sharing my number-one family-friendly travel destination ahead. Plus, I asked seven travel-savvy moms for their go-to spots to vacation with kids in tow — so feel free to copy/paste when booking your next vacation!
My Favorite Family Resort
One of our favorite places to visit as a family is Turks and Caicos. The beach there is just beyond stunning and the water is crystal-clear — plus, there are many places to stay and a lot of things you can do on the island, from a thousand different water sports to horseback riding (go to Provo Ponies!) to boating (rent a boat at Big Blue Marina and ask for Hugo and TJ to be your captains). But the place we stayed most recently will be our forever Turks go-to: Grace Bay Club. It's a resort but gives a boutique hotel vibe. The decor is beachy and chic, and the staff was exceptionally kind and accommodating. It's right on Grace Bay Beach (one of the top three beaches in the world!), where there are zero waves — critical for little ones who might be dipping their toes in the ocean for the first time.
They have an incredible kids' club (complete with a treehouse and three teachers who can entertain kids for hours), tennis courts, yoga, water sports, and volleyball. The food is delicious — the chopped salad at the Grill is so yummy and the filet mignon at Infitini Bar will have you drooling. (They also have a separate pool if you don't have kids and don't want to be splashed on or just want to peacefully chill by the pool.) I can't say enough great things about it — my kids, my husband and I all had an equally awesome time. We'll definitely be back!
Hannah Bronfman's Favorite Family Getaways
Some of my favorite hotels that are absolutely stunning and also great for kids are:
Hotel Esencia in Tulum, Mexico, which embraces chic jungle vibes while being steps away from the ocean on a very pristine beach. The rooms at Hotel Esencia are stunning and each one comes with a mini pool/jacuzzi and it's perfect for toddlers. My son actually took his first steps in this little pool, which was so cute. The rooms feel like you are in the jungle and during breakfast, my toddler was feeding birds and monkeys, which kept him thoroughly entertained.
Grand Cayman's Palm Heights is the new cool kids hotel with an incredible spa for adults and a warm pool in the shade that is perfect for kids. My toddler spends hours there! It's also so chic and tranquil, you wouldn't even notice that there are so many kids running around. The staff is absolutely incredible here — my son literally calls everyone by their names and gives hugs. It's also a great place to meet other parents.
Casasandra is one of the crown jewels of Holbox. If you haven't been to Holbox, it's very rustic beach vibes and lots of European tourists, but the beach is miles long and the water is only an inch deep, which is why it's an amazing place for kids.
Cap Juluca, the recent Belmond, is not only for kids but also has a Cipriani restaurant on property for adults. Cap Jaluca holds a special place in my heart as I grew up going to Anguilla; the property is absolutely gorgeous. The woman who runs the kids program is the sweetest woman with the best energy. Everyone loves her!
Bronfman is an author, angel investor, on-camera personality, and mother of two.
Lily Aldridge's Favorite Vacation Destinations
We love the Four Seasons Orlando at Disney World! I always love how family friendly Four Season Resorts are and the Disneyworld location takes it to the next level with kids' clubs and a lazy river! Not to mention the Michelin star restaurant Capa for date night and fun character breakfasts! It's one of my favorite hotels in the world.
Aldridge is a model, entrepreneur, and mother of two.
Babba Rivera's Favorite
Rosewood Mayakoba in Mexico is definitely a luxury experience (that comes with a price tag), but the service is unmatched. They go above and beyond to make fun surprises for the children, while having many of my personal must-haves when being on vacation, like a great spa! There is just so much thought into how they cater to kids, like coming home after a day at the beach to a bubble bath party setup in the children's bathroom with balloons, toys, bubbles and baby bathrobes. It's the only resort I've been to that's equally fun for kids as it is for the parents, and it's beautifully designed and has adult only areas, too, for when you want a break from kid land.
Babba Rivera is the CEO and founder of My Ceremonia, a nontoxic haircare company, and a mother of two.
Taryn Adler Favorite Family Vacation Spots
My favorite family hotel is the [Chateau de la] Messardiere in St. Tropez. It's as chic as it is kid-friendly. The hilltop property is surrounded by the dreamiest gardens with a view of the Mediterranean. There are several pools — the main one has a large knee-deep section perfect for young swimmers and a casual, easy lunch menu. There's also a private beach club, a house shuttle to and from town, and the best part: a kids club that doubles as a camp (for ages 3-12) in the summer. It has a pirate-themed playground, a dedicated Lego workshop, a theater, pizza-making classes, trampolines, swim lessons, an arcade, and so much more.
Kids are also welcome at all the nearby beach clubs (don't miss 55 and Gigi) and mine loved sampling olives, cheese, and tarte tropezienne at the local markets.
Taryn Adler is a beauty writer, philanthropist, and mother of three.
Elaine Weltroth's Favorite Family Destination
We typically stay in Air B&B's when we travel, since we like to spread out and feel like we are at home — with a baby you have a lot of stuff — but there was this one time when we did stay in a hotel with the baby! It was The Edition Hotel in Dubai. We brought my mom, who had her own room, and we took turns with the baby overnight. The hotel was beyond chic and the staff was so helpful, bringing us a pack n' play for the baby and making sure we had black-out shades, so we could get him to nap even though he was way off his schedule all the way across the world. They thought of everything to make us feel comfortable, which makes all of the difference when you're traveling with kids.
Elaine Welteroth, New York Times best-selling author, Project Runway judge, and mother of one.
Sunnie Brook's Family Getaway
For our family, the Alcudia Port Suites in Mallorca are incredible. The rooms join like a living room and bedroom situation so you have your me-time with your partner, if you'd like. They have five floors and everything that you need — plus, it's chic with tasteful design and there is a pool, hot tub, spa, and lounge area, it's one block from the beach, and there are three kids playgrounds within walking distance. Oh, and there is a grocery store nearby that is easy to get to via a walking sidewalk that goes around the whole coastline. The hotel is also positioned right by all of the best restaurants! We just love it and will definitely be going back.
Sunnie Brook is a celebrity hairstylist and mother of one.