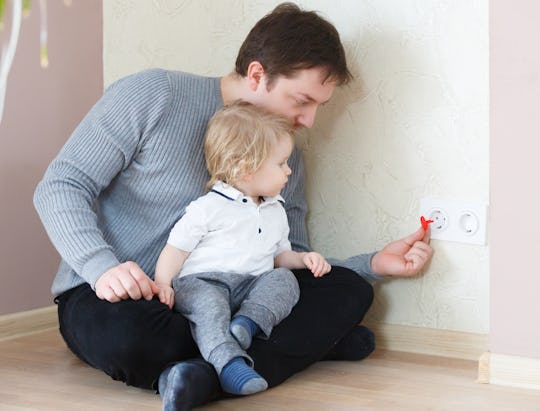 ZephyrMedia / Shutterstock
The 5 Best Outlet Covers For Babyproofing Your Home
We only recommend products we love and that we think you will, too. We may receive a portion of sales from products purchased from this article, which was written by our Commerce team.
Child-proofing is a must once your curious kiddo is on the move, and you don't want to overlook the electric outlets. The best outlet covers are designed to prevent your tot from sticking their fingers (or who-knows-what else) into the sockets, which could cause electric shock. The best covers are simple to install and fit snugly and securely so that your kiddo can't easily remove them. There are several designs to choose from, and selecting the right ones for your home depends on how often you need to access the outlets and your budget.
Plastic plugs are a low-cost solution that are usually sold in bulk. Plugs insert directly into the outlet's sockets, and are fairly difficult to remove once in place (but when you do take them out, don't leave them lying around since they're a choking hazard). Some plugs boast added security measures like a dual-action release feature. Another way to cover an outlet is with a shield, which is a plastic panel that covers the entire outlet, so that everyone — including your kiddo — essentially forgets that it was ever even there.
Plugs and shields are effective, but may be frustrating if you actually need to use your outlets. That's why bulky box outlet covers exist, allowing you to completely enclose the outlet and cords for devices that are semi-permanently plugged in, such as TVs. And if you simply want an outlet to be available for use when you need it and covered when you don't, sliding faceplate covers ensure that the socket can't be accessed until you slide the cover to plug in a cord.
This list contains a variety of styles, so that you can find the ones that will work in your home. They've helped hundreds of parents child-proof their electric outlets.