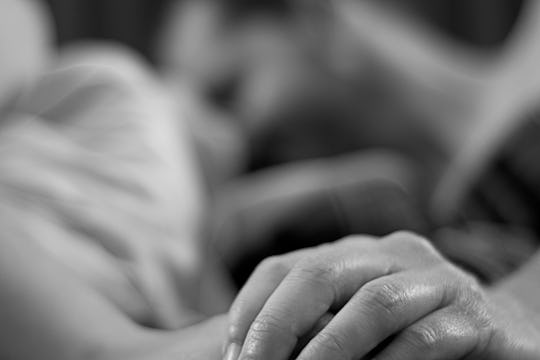 Tara Camilli/Getty
These Vibrators Are So Quiet, You Don't Have To Worry About Waking The Baby
Plus it's something other than a breast pump for the USB port by your bed.
Parents know that a sleeping baby is one of the biggest impediments to after-hours fun with your partner. While most of us have become truly adept at holding in any sounds we once made with wild abandon, the same cannot be said for our sex toys.
Vibrators are notoriously noisy. The famous Hitachi Magic Wand sounds like a jet engine when you have a sleeping baby in the next room. Finding the right combination of power and volume seems an epic task. I mean, what's the point of a vibrator if it's noise-free, but can't get the job done? Thankfully, there are a ton of quiet vibrators on the market that are actually very low decibel.
Much of the sound is related to materials. Solidly silicone toys tend to be the quietest. Wands and hard plastic toys might rock your world, but they may also rattle your teeth with how loud they are. Vibrating sleeves are also pretty noisy, because they often have plastic bullets affixed to the sides, which usually shout to the world exactly what you're playing with. However, vibrating cock rings can be some of the quietest toys, as they're usually made with silicone, and their sound is muffled between two bodies. (If positioned that way.)
I have researched and tested these products — rigorously — and I can tell you with authority, they are amazing, and they are quiet. All of them feature multiple speeds and settings, so you can play around with which one has the right levels for you.
We only include products that have been independently selected by Romper's editorial team. However, we may receive a portion of sales if you purchase a product through a link in this article.