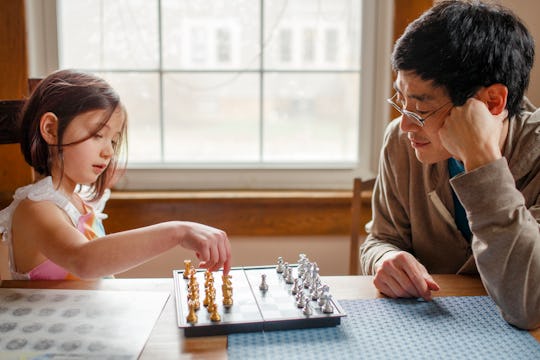 Cavan Images/Cavan/Getty Images
These 21 Educational Board Games Are Perfect For Homeschoolers
And kids learning in a classroom, too.
Even adults have trouble concentrating for eight hours (hello, coffee runs) so you can bet if your child is learning from home this school year, they're going to need ample breaks. Sometimes kids just need exercise or a quick snack (I mean, same) and other times they'll need a more substantial recess from school work, which may come in the form of a book or a game. These educational board games for kids can supplement homeschooling, distance learning, or unschooling sessions because they're really fun (even for adults) but they keep kids learning in a way that doesn't feel totally structured or academic.
From math, to history, phonics, and even art or coding, there's a board game here to help expand on every subject. And best of all (especially for siblings who just can't get along) many of the games on this list are cooperative, meaning players work together instead of competing against each other.
From old favorites you may still have from when you were a kid (like Monopoly or Scrabble Jr.) to new ones you probably haven't heard of but will quickly grow to love, these games will help kids hone their attention to detail, problem solving, and critical thinking skills which will help with all subjects.
We only include products that have been independently selected by Romper's editorial team. However, we may receive a portion of sales if you purchase a product through a link in this article.
Whether your kids need a break from lessons or you're going to make these games part of the curriculum, the educational board games for kids are great for homeschooling—just don't be surprised if your kids ask to play on the weekends, too.
This article was originally published on