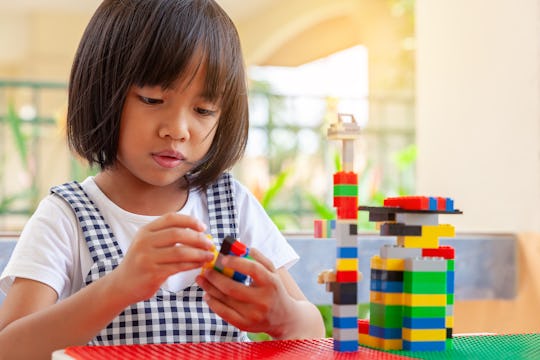 Shutterstock
Kids Who Love Legos Will Love These 10 Building Toys, Too
These are just as fun, and (maybe) less painful to step on accidentally.
Some kids are born to build, and fortunately there's a whole world of toys devoted to this talent. The building toys for kids who like Legos will appeal to budding architects of all ages. Whether you like classic wooden building toys or modern sets with all the bells and whistles, there's a new building toy just waiting to be discovered here. With any luck your kid will be busy constructing all kinds of imaginative designs for hours on end.
To be clear, this is not at all about disparaging Legos, because plenty of kids (and adults) love their iconic bricks. For some families, visiting Legoland is the *ultimate* family vacation, after all. But if you're feeling little Lego'd out as a parent (because those bricks do get everywhere), then there are so many similar toys that will fulfill that building need. There are soft and squishy blocks for the younger kids, as well as super-intricate and sometimes motorized sets for tweens and teens. Some sets include magnets, and others come with lights. Whatever the case, your kid can still enjoy the benefits of this creative play while working with a new set of toys. Read on to find the perfect building toy for your Lego-obsessed kiddo.
We only include products that have been independently selected by Romper's editorial team. However, we may receive a portion of sales if you purchase a product through a link in this article.