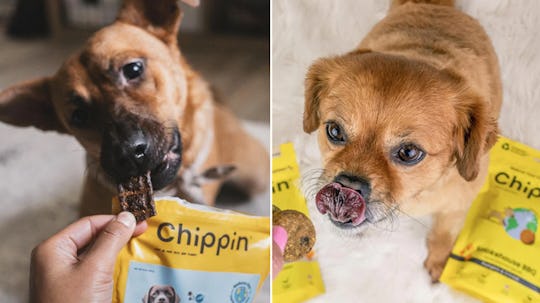 This Dog Food Company Is Using Unusual Ingredients To Create Healthier Treats For Your Pup & The Environment
We only recommend products we love and that we think you will, too. We may receive a portion of sales from products purchased from this article, which was written by our Commerce team.
I'm sure many pet parents can relate to the feeling of wanting to give your dog the best of everything – and that includes the food we feed them. But honestly, when perusing the pet food aisle of the grocery store, it's easy to get overwhelmed by all the options. How do we know what is the most nutritious choice for our pups? My rescued German Shepherd will eat just about anything, but what should she actually be eating on a daily basis?
If considered its own country, the pet population in the U.S. would rank fifth in global meat consumption — not great for the environment. Now, canines need plenty of protein in their diet, which is why most dog foods contain some type of meat, whether that be chicken, salmon, lamb, or beef. I assumed those were pretty much the only options, but Chippin, a woman-owned dog food company, offers kibble, treats, and meal toppers made from alternative sources of protein that I had never even considered — silver carp, spirulina, and crickets. (That's right, crickets.) If the mere thought of your dog chowing down on insects makes you a little squeamish, I promise that once you've read about how good they are for your pup — and the planet — you'll be on board.
Science-Backed Superfood Proteins For Dogs
Haley Russell, founder of Chippin, was inspired to create nutrient-rich dog food that promotes a long, happy life for your pet. Chippin's silver carp jerky is an anti-allergen treat that's packed with Omega-3s and all 10 essential amino acids to support a healthy skin and coat.
Another one of Chippin's rockstar ingredients? Spirulina. The protein-packed blue-green algae helps reduces inflammation, boosts your dog's immune system, and acta as a probiotic to support gut health. Combined with kale, flaxseed, and carrot, Chippin's vegan spirulina treats are a great way to sneak some extra veggies into your pup's diet.
Chippin offers a tantalizing cricket-based jerky with prebiotic benefits as well. Beloved by dogs of all ages — from puppies to seniors — Chippin's chewy jerky treats make great high-value rewards during a training session — or just because.
Are crickets safe for dogs to eat?
Yes! Crickets are naturally rich in Omega-3s, which support the heart, skin, joints, and coat. Crickets are also more digestible than chicken, so your dog's body can absorb more nutrients. Chippin has several cricket treats available, including a smokehouse BBQ-flavored formula that's blended with pumpkin and carrots to support vision, as well as an antioxidant-rich option with bananas and blueberries to boost gut health. You can also spice up your dog's mealtime with a nutrient-rich cricket food topper, which is fortified with apple cider vinegar, sweet potato, and pumpkin — a powerful blend that supports digestion.
Dog Food That's Good For The Planet
OK, so now that you've got the scoop on alternative protein, it's time to talk about eco-sustainability. All of Chippin's products are designed with the environment in mind, starting with the ingredients they use. According to the company's website, one-third of fish stocks are overfished, which is why Chippin sources their silver carp from Kentucky Lake, right off the Ohio River, where there is an overpopulation of the top-feeding fish.
Plus, each bag of Chippin's alternative-protein treats saves at least 40 gallons of water compared to traditional treats and consumes 80% fewer resources. Not to mention, Chippin is a certified plastic neutral company, which means that they remove as much plastic as they use throughout their entire supply chain.
Bundles For Puppies, Seniors & Low-Fat Diets
Ready to try out Chippin's alternative protein products for yourself? Luckily, they give you the option to find the treats that will suit your canine friend by bundling them together according to their specific benefits.
A Puppy Treat Bundle For Young Dogs
A Senior Treat Bundle For Your Best Friend
A Low Fat Treat Bundle For Specialized Diets
More Chippin Treats Your Dog Will Love
This article was originally published on