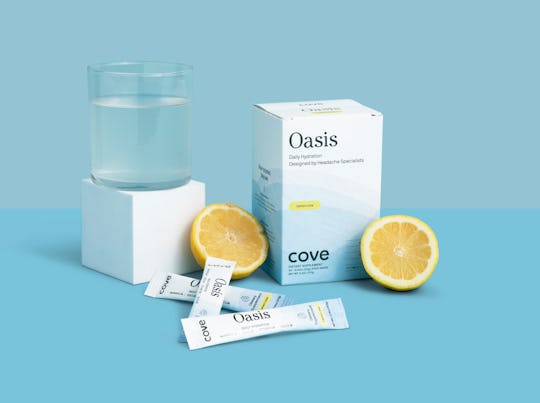 Cove
I Tried This Doctor-Backed Headache Aid That Makes Hydration Easy
We only recommend products we love and that we think you will, too. We may receive a portion of sales from products purchased from this article, which was written by our Commerce team.
I'm well aware that what I eat and drink has a big impact on how I feel, but between cravings and a daunting to-do list, sticking to a routine that involves drinking lots of water and getting well-rounded nutrients to help keep headaches at bay is not usually priority number one. I've tried different tracking or accountability methods and stuck with them for two or three days each, and my successes with the gallon-size water bottle were mostly in the strength-training arena from carrying it around. But one thing that does work? Making water something I actually look forward to drinking.
Dehydration is a huge headache trigger, which is why Cove created the neurologist-backed booster Oasis to make keeping those water levels balanced easier. Combining clinically proven nutrients which are thoughtfully delivered in a package that's both convenient to take and easy to absorb, it's a one-and-done aid for hydration. Oh, and it tastes good, so you'll actually want and remember to take it.
Best of all? It doesn't include any sugar or caffeine-like many drink boosters, so it's less likely to inadvertently lead to a headache or keep you up at night. (Read: I can drink it at 4 p.m. when I remember without worrying about not being able to sleep.)
Who Is Cove Oasis For?
Oasis can make a difference for just about anyone who could use a little more hydration (so, pretty much everyone), but it's specially formulated with ingredients that have actually been studied to help with migraines.
And, if you have noticed that your headache frequency has changed during and/or after pregnancy, after starting a new birth control routine, or around periods, you're not alone. Hormones play a big role in migraines, and when those are changing, the results can sometimes be unpredictable.
What Makes Oasis Effective?
First of all, Oasis is a drink mix which is designed to be poured into a big, 16-ounce or larger glass of water (I use a 32-ounce container), so the form helps with hydration. The actual ingredients are also scientifically proven to help with headaches, like well-studied magnesium and other electrolytes including potassium and calcium, which help to regulate body functions but are lost naturally throughout the day through body fluids like sweat. You'll also find vitamins C and B6 in it.
Finally, "some studies suggest that powder supplements are easier for your body to absorb than solid tablets," according to Dr. Alexander Mauskop, the director and founder of the New York Headache Center and a Cove medical advisor.
You can take it at any time (including before, during, or after a headache), and there are no known medication interactions. However, it's always a good idea to discuss any supplements with your doctor.
What Does It Taste Like?
At least for me, if it doesn't taste good, I won't drink it. Cove describes Oasis as having "a refreshing lemon-lime flavor, a little like Gatorade." Personally, I think it tastes like a salted lemonade, a popular flavor in Asia and the Middle East.
More Neurologist-Approved Aids From Cove:
This article was originally published on