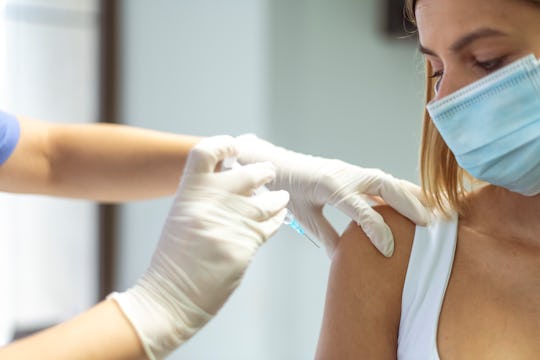 Fly View Productions/E+/Getty Images
Everything We Know About Covid-19 Vaccine Boosters So Far
If you've already been vaccinated, there could be a booster shot in your future. New updates continue to shed more light.
First the good news: Americans have three options, green-lit by the U.S. Food & Drug Administration (FDA), to become vaccinated against Covid-19 (there's Johnson & Johnson, Moderna, and Pfizer, the latter of which the FDA recently shared its full approval), and a vaccine for young children is in sight.
Parents can currently consider vaccinations for children 12 and up, and the Centers For Disease Control and Prevention (CDC) recently encouraged all pregnant people to get vaccinated.
While we have plenty of reasons to share hopeful smiles, there are still countless more decisions that need to be made about Covid-19 vaccines by scientists, researchers and caregivers around the world. Now that it looks like a Covid-19 booster is in the future for most already-vaccinated individuals, questions of eligibility and access are in the spotlight. Studies are ongoing, but data and government updates are offering new insight into why and when Covid-19 boosters may be offered.
Do I Need A Covid-19 Booster Shot Or Not?
If you've been vaccinated, you have very good protection against serious sickness. But it's been reported that there is data suggesting that protection, or the effectiveness of protections, or the duration of protections, could start to decline months after some vaccinations. Some experts, like National Institute of Allergy and Infectious Diseases director Anthony Fauci, have discussed potentially using boosters in an effort to keep protections high and more enduring. Some reports of booster use outside of the U.S. are showing promise.
And so new offensive efforts in the Covid-19 battle were recently set in motion: On Friday, September 24, the CDC shared on its website a set of recommendations regarding Pfizer-BioNTech Covid-19 booster shots for certain higher-risk individuals and populations. Those already vaccinated individuals who received their first round of Pfizer shots who are now over 65, and in long-term care environments, and/or are between 50 and 64 years old with underlying medical conditions are recommended to receive a booster starting six months after their first full dosage.Those people who are between 18 and 49 years old with underlying medical issues, and those 18 to 64 year olds who are more at risk due to their environments, either occupational or institutional, may also be eligible for a booster.
The FDA, on Wednesday, September 22, green-lit on its website the use of the Pfizer-BioNTech Covid-19 Vaccine booster shot for people at and over 65, and for people from 18 to 64 years old that are at increased risk, and/or are in environments, either institutional or occupational, of exposure that could lead to a high risk.
This news pertains to the Pfizer vaccine, and studies are continuing regarding potential boosters from other companies.
How Can I Get A Covid-19 Booster Shot If I'm Eligible?
Turn to your vaccine provider and ask about eligibility. As per The Department of Health and Human Services, providers that are enrolled in CDC Covid-19 Vaccination Program should make the Pfizer booster shots available to those in eligible groups. Another resource to consider is vaccines.gov, which allows you to select a vaccine, and type in your zip code to see providers near you.
Why Are Potential Boosters Even Being Discussed?
Pfizer, one company behind a currently approved vaccine for individuals 12 years of age and older, shared on its website that in its studies of the Pfizer-BioNTech Covid-19 vaccine (BNT 162b2) in several hundred cases, it appeared effective for at least six months. And Pfizer updated on its website that the company shared with the U.S. FDA data which could support the potential use of a booster, eight to nine months following the second dose. The company has shared that research is ongoing into the possibility of using boosters to potentially renew protections or potentially offer protections from variants. Moderna shared that the company is also studying the possibility of boosters for those already vaccinated, and the effectiveness of its vaccine against threatening variants. And also Moderna recently shared promising statements surrounding boosters.
Where Do We Stand In The U.S. Right Now?
As the CDC reported, over 181 million people in the U.S. have been vaccinated. While there are breakthrough cases, the vaccines are proving to work. And in August, the American Academy of Pediatrics (AAP) expressed its thoughts to the FDA on the perceived urgent need for authorization of safe vaccinations for children under 12. The bottom line? We're seeing government organizations like the CDC and FDA release updated information and recommendations in light of available, studied data. To stay up-to-date on the latest findings, head to romper.com/coronavirus.
This article was originally published on