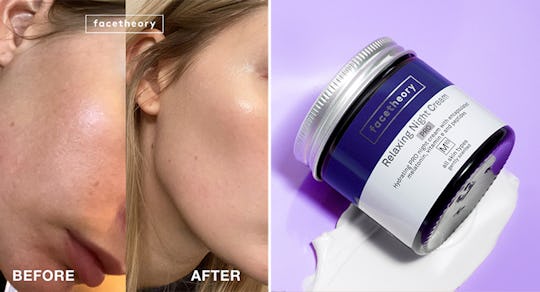 Avoiding Retinol? Check Out These Potent & Budget-Friendly Alternatives You'll Wish You Knew About Sooner
We only recommend products we love and that we think you will, too. We may receive a portion of sales from products purchased from this article, which was written by our Commerce team.
There's a lot of talk about retinol products to plump the skin and minimize pores and sun damage, and while they can be effective, many also come with possible side effects such as increased sensitivity to the sun, dryness, and peeling. Many experts also recommend avoiding them during pregnancy and breastfeeding. So, when I learned about Facetheory's retinol alternatives that use botanical extracts to increase cell turnover and boost collagen (and come with reasonable price tags, mostly under $20), I was intrigued.
Retinol Alternatives To Consider
Retinol works by exfoliating the skin, which, in turn, increases skin cell turnover and stimulates the production of collagen. It's something your skin does naturally but at a rate that declines as we age. There are a number of reasons why you might consider a retinol alternative, and luckily, some botanical extracts and peptides are known to provide the same benefits of exfoliating, smoothing, and firming the skin. For example, ChroNOline, a lipopeptide, works to plump and firm. Rosehip oil works to protect against environmental stressors and targets the signs of sun damage. And bakuchiol, made from seeds of the babchi plant, can boost cell turnover and collagen synthesis for smoother and brighter skin — but if you're pregnant or breastfeeding, you should talk to a doctor before using bakuchiol.
Facetheory uses these and other natural ingredients to create potent collagen-boosting skin care. The brand is so confident you'll love its vegan, cruelty-free products that it offers a 365-day satisfaction guarantee.
Recommended for: Most skin types, including sensitive, dry, and combination skin
You may have heard that taking melatonin can help you sleep better but did you know that it also has some surprising skin benefits as well? I didn't either. This night cream contains encapsulated melatonin with the goal of stimulating your body's production of antioxidants, and it works while you sleep to promote cellular regeneration. It also includes ChroNOline, vitamin E, shea butter, rice bran oil, and an optional lavender scent — this is a night cream I can look forward to applying.
According to one reviewer: "Lovely night cream. Rich without being heavy and has a relaxing scent. My skin loves it. I have purchased this twice now and have no intention to use anything else. Converted!"
Recommended for: Most skin types, including sensitive, dry, and combination skin
This 100% organic rosehip oil is packed with vitamins and antioxidants that work to tighten, brighten, and improve the elasticity of your skin, including vitamin E and linoleic acid, which help soothe, soften, and regulate oil production. In addition, rosehip oil contains a plant-derived, pregnancy-safe form of vitamin A to help fuel overnight regeneration and reduce sun damage and plump the skin.
According to one reviewer: "I use it every night before bed and sometimes in the morning. My skin feels so soft and it feels like a real treat to put it [on] my face. It doesn't leave me oily at all and absorbs in really well."
Recommended for: Oily and combination skin
This lightweight moisturizer uses the retinol alternative bakuchiol extract to stimulate the skin receptors that help boost collagen production and increase cell turnover — all without increasing sensitivity to the sun. It also contains hyaluronic acid, which helps pull moisture into the skin for extra hydration. Plus, the formula includes a blend of argan oil, ferulic acid, vitamins C and E, and shea butter to nourish and moisturize. And the lightweight formula won't look shiny thanks to the addition of rice starch which helps to absorb oils, control shine, and minimize pores, so it's great both day and night. Just note that while bakuchiol doesn't increase your skin's sensitivity to the sun like retinol does, it's still recommended to apply a daily SPF cream. Also, talk with your doctor before using if you're pregnant or breastfeeding.
According to a reviewer: "Excellent day moisturiser which soaks in nicely. Just the right balance for me...not too rich, not too light. A good base for under makeup or just a dewy finish on its own. Love this product."
This article was originally published on