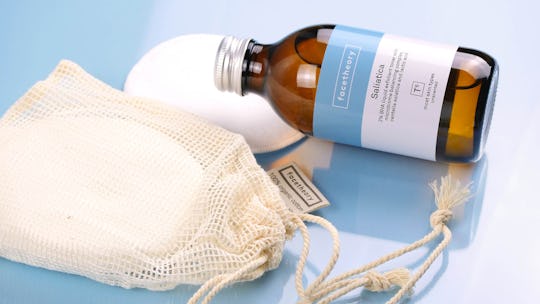 Facetheory's Newest Toner Is Creating Plenty Of Buzz — And I Gave It A Try On My Oily, Postpartum Skin
We only recommend products we love and that we think you will, too. We may receive a portion of sales from products purchased from this article, which was written by our Commerce team.
As a new mom, I'm none too pleased with the way postpartum hormones are wreaking havoc on my face. My once decidedly dry skin has become unpredictably oily, and I'm suddenly seeing pimples for the first time since I was living in a dorm room. But when I recently started shopping for a toner, I discovered that modern formulas have come a long way from my college days. Take Facetheory's Saliatica 2% BHA Toner T6, which is made with four active ingredients to promote a brighter, clearer complexion. Intrigued by this popular British brand and its rave reviews, I decided to find out why this toner might be a promising addition to your skin care routine.
Fast Facts
Designed for oily, combination, and acne-prone skin types
Free of parabens, silicones, PEGs, SLS, SLES, and mineral oils
Vegan and cruelty-free
Should not be used by anyone who is under 18, pregnant, and/or allergic to aspirin
How This Toner Works
The problem with many astringents and toners (at least, in my experience) is that they include harsh ingredients like alcohol, which can actually dry skin and ramp up oil production if used too much. This is a dealbreaker for someone like me, who is already dealing with oily skin. Facetheory's toner keeps its formula gentle by swapping alcohol for moisturizing agents.
Facetheory uses a four-pronged approach to combat oily and combination skin. Here's how each ingredient plays a role in helping to enhance your complexion:
Salicylic acid (2%), a beta hydroxy acid, helps to exfoliate dead skin cells and penetrates deep into the pores to target blackheads and breakouts. On top of that, it has antimicrobial properties, which can also be helpful for people with acne.
Lactic acid (0.49%), an alpha hydroxy acid, targets the surface of the skin. The right concentration can help fade dark spots and result in brighter, more even skin tone.
Centella asiatica is an herb known for its anti-inflammatory and antioxidant properties. A 2017 study published in International Journal of Molecular Sciences found it may be effective in treating eczema and boosting collagen synthesis.
A microbiome balancing complex, or polylysine, is said to target acne-causing bacteria and reduce the appearance of blemishes. Studies have in fact shown that polylysine can assist "in the regeneration and treatment of skin disorders."
First Impressions
The first thing I noticed about Facetheory's Saliatica 2% BHA Toner T6 is that — unlike with toners I've tried in the past — I wasn't hit with the sharp scent of alcohol. It is truly unscented and odorless.
It also goes on without any tingling or burning. Perhaps the only quibble I have is that it leaves a slight residue after drying. However, this ultimately doesn't matter for me because I apply moisturizer and sunblock on top, which changes the finish of my skin.
And hey, if packaging counts, I can get behind the minimalist aesthetics. The amber glass bottle is attractive but also functional, blocking light to minimize the premature breakdown of ingredients. It's a useful trait you'll see in the packaging of all Facetheory's toners, as well as most (if not all) of its other products.
Who Shouldn't Use This Product?
Facetheory recommends that anyone who is pregnant or under the age of 18 seek medical advice before using this toner. Those who are allergic to aspirin should also avoid using this product.
Anyone who is cleared to use this toner should still adhere to the directions on the package. Since the alpha and beta hydroxy acids in this product can increase your skin's sensitivity to the sun, the brand recommends using sunscreen, wearing protective clothing, and limiting sun exposure while using the toner and for up to one week after discontinuing use.
The Final Verdict
Although I can't report on the long-term benefits of this toner, I can say that one week of use has proven to be a gentle way of keeping my pores clear. This is a noticeable difference in performance compared to the toners of yore, which often left my skin irritated.
It even earned the endorsement of my boyfriend, who never used a product in his life until this toner earned a spot on the bathroom shelf. He used it to treat a blemish and said that his skin cleared up quicker than ever.
What Others Are Saying
Facetheory Saliatica 2% BHA Toner T6 has also earned an overall 4.66-star rating since its April 2022 release. "I can see results after 1 or 2 weeks of use!" wrote one reviewer. "My skin [tone] is much more even and my pores much less congested. I suffer from large pores and an [oily T-zone], this toner works wonders for me. I can even go out barefaced now if I want."
But if you're not the type to be swayed by user reviews, trust the science. In a clinical study conducted on 19 volunteers, the toner reduced whiteheads and blackheads by up to 57% over a period of 28 days, according to the brand. There was also a decrease in papules by 82%.
If other products have failed to resolve your blemish-prone skin, Saliatica 2% BHA Toner T6 may be an effective and budget-friendly solution. And with the brand's 365-day money-back guarantee, there's no reason not to give it a try.
Check out the Facetheory site to shop the brand's best-selling toners, serums, moisturizers, and more.
Studies Referenced:
Stiller, M. J., Bartolone, J., Stern, R., Smith, S., Kollias, N., Gillies, R., & Drake, L. A. (1996) Topical 8% glycolic acid and 8% L-lactic acid creams for the treatment of photodamaged skin. JAMA Dermatology, https://pubmed.ncbi.nlm.nih.gov/8651713/
Ju Ho Park, J. H., Choi, J. Y., Son, D. J., Park, E. K., Song, M. J., Hellström, M., & Hong, J. T. (2017) Anti-Inflammatory Effect of Titrated Extract of Centella asiatica in Phthalic Anhydride-Induced Allergic Dermatitis Animal Model. International Journal of Molecular Sciences, https://www.ncbi.nlm.nih.gov/pmc/articles/PMC5412323/
Zarrintaj, P., Ghorbani, S., Barani, M., Pal Singh Chauhan, N., Khodadadi Yazdi, M., Reza Saeb, M., Ramsey, J., Hamblin, M., Mozafari, M., & Mostafavi, E.(2022) Polylysine for skin regeneration: A review of recent advances and future perspectives. Bioengineering and Translational Medicine, https://www.ncbi.nlm.nih.gov/pmc/articles/PMC8780928/
This article was originally published on