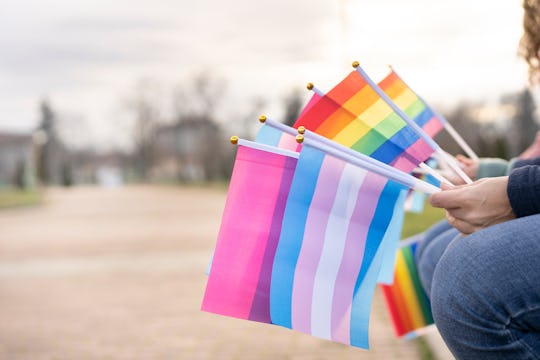 Vladimir Vladimirov/E+/Getty Images
Florida Passes Bill Banning Education About Gender Identity & Sexual Orientation In Schools
The bill now moves to the desk of Gov. Ron DeSantis, who has signaled support.
Florida's "Don't Say Gay" bill — officially known as the "Parental Rights In Education" bill or HB 1557 — would ban "classroom discussion about sexual orientation or gender identity" in certain grades, and has drawn national attention from celebrities, activists, and even the White House. But despite the negative backlash, Democratic dissent, and two senators breaking from the party line, Republicans voted to pass the bill in a 22 to 17 vote on March 7. The bill now goes to the desk of Republican Gov. Ron DeSantis, who has signaled support for the bill.
The move comes after a massive student walkout across at least 20 schools to protest the measure, organized by Jack Petocz, who was subsequently suspended for handing out pride flags at the school-sanctioned event (though he told NBC News that he believes the suspension was a result of the protest itself). Students from Tampa to Orlando to Sarasota and beyond all joined in the walkout. In Tallahassee, students walked to the Florida State Capitol building and were joined by Democratic lawmakers joined the students in support. Rep. Carlos Smith spoke to students, saying — to great cheers — "I serve in the Florida House, and I am gay, gay, gay!" Reps. Michele Rayner-Goolsby and Fentrice Driskell joined students in chants of "We say gay!" and dancing inside the Capitol. Florida Senate Minority Leader Lauren Book also came to support to students.
While supporters of HB 1557 — like Republican Rep. Joe Harding, who introduced the bill — say it is simply a matter of "creating boundaries" and asserting parental rights, LGBTQ+ advocates fear the bill will create an unsupportive or even hostile environment for students by specifically taking aim at discussion of sexuality and gender identity. HB 1557 explicitly bans sex and gender identity education and discussion between kindergarten and third grade and says that, beyond those ages, education must be "age appropriate," but does not specify what constitutes "appropriate." Despite this ambiguity, HB 1557 nevertheless grants parents the right to sue school districts if they believe the schools have violated the law. Though some of the more pointed anti-LGBTQ+ policies have been altered from the bill's original iteration — such as requiring teachers to "out" students to their parents — opponents point to the broad language that, they claim, will harm students, particularly queer students.
The passage of the bill through the Florida Senate prompted U.S. Secretary of Education Miguel Cardona to issue a same-day statement, warning that "all schools that receive federal funding must follow federal civil rights law, including Title IX."
"Parents across the country are looking to national, state, and district leaders to support our nation's students, help them recover from the pandemic, and provide them the academic and mental health supports they need," he wrote. "Instead, leaders in Florida are prioritizing hateful bills that hurt some of the students most in need. The Department of Education has made clear that all schools receiving federal funding must follow federal civil rights law, including Title IX's protections against discrimination based on sexual orientation and gender identity. We stand with our LGBTQ+ students in Florida and across the country, and urge Florida leaders to make sure all their students are protected and supported."
The Human Rights Campaign (HRC) notes that HB 1577 is not an isolated incident by part of a larger national trend. In 2021, 290 anti-LGBTQ+ bills were introduced across 33 states. Of those, 25 passed, 13 of which were anti-transgender laws. Just three months into 2022, dozens of bills that take aim at LGBTQ+ rights have already been filed.
This article was originally published on