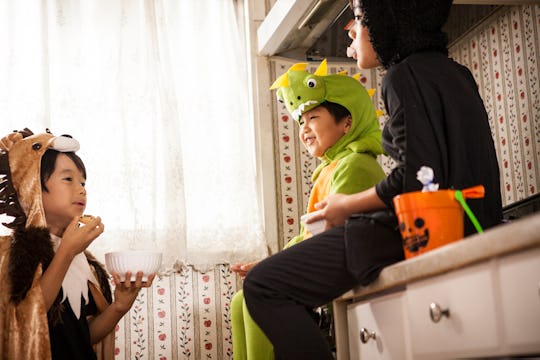 kokouu/E+/Getty Images
These 26 Slow Cooker Recipes Will Make Halloween Night A Little Less Scary
Between the Halloween parade at school, the mad dash to Costco to buy an economy-sized bag of candy, then pulling together a costume for yourself, cooking an elaborate meal on Halloween can be a low priority. Fortunately, these 26 Halloween slow cooker recipes will simmer and sizzle all by themselves while you run around all day taking care of those (downright frightening) last minute details.
With candy as a dessert (and let's be real, probably an appetizer too), your family (and you!) will appreciate a hearty meal to sop up some of that sugar. Halloween is a lovely and strange holiday; after all, on what other occasion would you happily send your kids out to collect food from strangers? To celebrate this year, you could start a new holiday tradition and make something special in the slow cooker.
And if you already have dinner planned out (pizza delivery, anyone?) there are also some sweets your kids will love, and even one "adult-only" cider recipe, because grown-ups deserve treats too. Your slow cooker already looks like a cauldron, so you might as well throw on a witch hat and work some culinary magic. Read on for the 26 Halloween slow cooker recipes that will have your family saying, "bone appetit!"
This article was originally published on