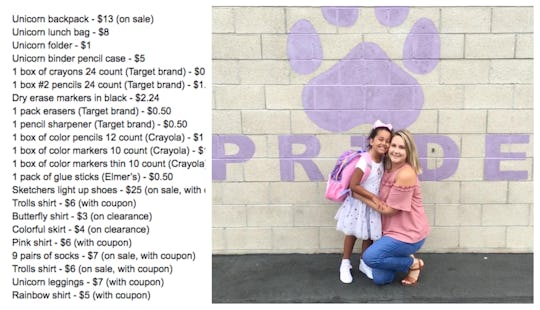 Photo courtesy of Kristen Cervantes
Here's What A Californian Family Living On $70,000 Spent On School Shopping
Raising a child supposedly costs you a quarter of a million dollars, but it can honestly be more daunting to face the idea of spending $80 on bottle nipples in a single month. Expense Report gives us a look into the spending, scrimping, and wishing that defines parenthood, from what moms spend on birthdays, to childcare, to sleep, to self-care (we wish!), and beyond.
How much do school supplies really cost? For a family with one child in a large West Coast city, the national average suggested lots of sparkly pencils.
Look, if I'm honest, one of the ways I like to relax on a Sunday is to open my browser, and take in Target's weekly ad specials. Recently, and to my surprise, when I cranked up Target.com on my screen, I saw bright bold letters announcing, "BACK TO SCHOOL" Didn't school just end?
My excitement for my daughter to begin first grade gradually wore off as I looked at my daughter's school supply list and heard my daughter repeatedly say, "I want the shoes that light up!"
It was officially back-to-school season.
Family: A mom and dad in their 30s
Location: California
Annual family income: Approximately $70,000
Number of children: One, aged 6
The supplies list for first grade was way longer than it was for kindergarten. And since I fully support helping teachers out, I was determined to get what was needed for my daughter and her teacher for the school year, while trying to stay within a reasonable budget.
The back to school list had the typical pencils, markers and crayons, but it also had polymer erasers in white. I bought the basic pink erasers for .50 cents. They should do the same thing: erase.
Target $36.18 (unicorn backpack, $13 (on sale), unicorn lunch bag, $8, unicorn folder, $1, unicorn binder pencil case, $5, box of crayons 24 count (Target brand), $0.25, box #2 pencils 24 count (Target brand), $1.19, dry erase markers in black, $2.24, erasers (Target brand), $0.50, pencil sharpener (Target brand), $0.50, box of color pencils 12 count, $1, box of Crayola markers 10 count (Crayola), $1, box of Crayola markers thin 10 count, $1, pack of Elmer's glue sticks (Elmer's), $0.50)
Regretfully, with the hustle and bustle of summer plans, work and managing my daughter's activities, including summer camp, I was not able to grab everything on the list by the time school started. But I can always buy these items and donate them during the school year.
I started buying items for my daughter school supplies early since she already had a particular theme in mind: unicorns. Literally, everything unicorn, down to her socks and personalized pencil case.
Local business (personalized unicorn pencil box, $6)
Stationary subtotal: $42.18
The first official back to school purchase was a unicorn dress from H&M. It had a unicorn, stars and shimmer and everything my little girl was looking for. I made her promise that she would not wear it before school started. And then I realized I sounded like my mother before I started school.
H&M (unicorn dress, $15)
Next came the backpack and, I must say, even I thought the unicorn backpack she picked from Target was adorable. I found a few options online (because ordering online is so much easier) and let my daughter pick so she felt like she was apart of the back to school process and hopefully get her somewhat excited for school.
With the first official back to school purchases, I was ready to tackle clothing. My daughter has grown at a rapid pace since the day she was born (and she was a preemie) and everyone always thinks she is a few years older than she really is. She is tall and outgrows all her clothes within a few months.
I know from when my daughter started kindergarten last year that Target and Kohls always have back to school deals so I checked ads every Sunday to see what they had to offer. Buying school clothes was a joint effort between myself, my mom and my daughter.
Target (black, jean, pink Cat & Jack leggings, @$5 each, $15 total)
Fortunately, we had people get clothes for my daughter for her birthday in May that were a little bigger so they would last throughout the upcoming school year. This made buying clothes a little more fun because we could pick out items that weren't necessarily essentials like pants, underwear, socks, etc.
Kohls $69 (Skechers light-up shoes ,$25 (on sale, with coupon), Trolls shirt, $6 (on sale, with coupon), unicorn leggings, $7 (with coupon)), butterfly shirt, $3 (on clearance), colorful skirt, $4 (on clearance), pink shirt, $6 (with coupon), 9 pairs of socks, $7 (on sale, with coupon), rainbow shirt, $5 (with coupon))
Old Navy (unicorn shirt, $8, black leggings with hearts, $6)
Other paid for by grandmother (Converse high-top shoes, $24 (on sale, with coupon), two dresses, $16, not counted in total
Clothing subtotal: $105
After we bought clothes, I took my daughter on a special trip to Justice although I despise going because that store is extremely overwhelming. The rainbows, sequins and unicorns are a little much for me. My daughter calls it the Jojo Siwa store and I don't debate it. It's a young girl/tween store for sure.
She picked out a unicorn necklace and I got her a night before the first day of school gift: a unicorn sleeping mask.
Justice (unicorn necklace, $5, unicorn sleep mask, $12)
Rainbow Kids Hairstyling (haircut, $25 (including tip))
Back to school gifts subtotal: $44
I enjoy back to school shopping. It reminds me of when I was younger and my mom took me and my siblings to Mervyn's (remember that store?) and told us we couldn't wear anything until the first day of school. It was exciting to pick out my own Trapper Keeper and show it off to my friends.
I want my daughter to experience the joys of schools; being able to express yourself and bond with friends who like the same things.
Back to school total (not including taxes): $191.18
The night before the first day of school my daughter used her unicorn sleep mask and tried to go to bed "early." She is a night owl. But she woke up during the night because she was excited. And I couldn't sleep either.
Regardless of how much I end up spending each school year on clothes and supplies, I know I am helping my daughter's teacher, who deserves the world for the profession she is in, and allows my daughter to feel more comfortable as she embarks on this new chapter in her life.
Overall, I feel like I spent an average amount that many parents tend to spend for their child for going back to school. There is a lot of pressure for a kid to have the trendiest clothes and gadgets, but what is most important is what they are able to learn and how they grow as a person. And that is something money can't buy.