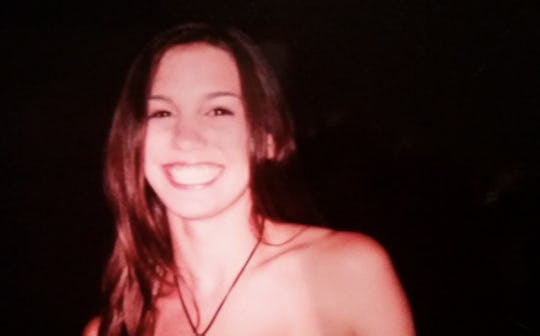 Christy Carlson Romano
Here's Why Christy Carlson Romano Is The Feminist Icon Of Your Childhood
Ever wonder what your favorite childhood stars are doing now? Same. In Romper's new series Claim to Fame, we're bringing you exclusive interviews with the faces of the past, contextualizing them in the present, and finding out what they've learned from their claim to fame.
Anyone who grew up watching the Disney Channel in the early 2000s knows the name Christy Carlson Romano. Whether she was saving the world as Kim Possible or fighting with her younger brother as Ren on Even Stevens, Romano's characters helped change the way young girls were portrayed on television by showing kids they can be anything they want to be, regardless of gender. Maybe that's why, as I chat with Romano over the phone, it instantly feels like I know her. Because she actually played a big part in shaping my childhood and the way I saw girls like myself represented on TV.
At just 8 years old, Romano began touring all over the country, performing in The Sound of Music as one of the Von Trapp children, with her mom by her side. "Having my mom as my teammate was a lot easier than having an agent and a manager and a publicist," Romano tells me of their time on the road together. "[She] was always very big on women leadership." And it was that guideline that set the precedent for Romano's future roles.
In 2000, Romano landed a starring role on the new Disney show, Even Stevens as Ren Stevens — the relatable, yet over-achieving co-protagonist of the series. She was the straight man to Shia LaBeouf's Louis Stevens, who took joy in sabotaging his teenage sister's formative years. "Ren was very similar to me," Romano says, reflecting on the instant kinship she felt with her character. "It's like I was growing up with her on the show and [dealing with] a lot of the moral dilemmas that she was having."
"Women are introducing [Kim Possible and Ren Stevens] to their daughters."
Of course, the struggles that come with teenage adolescence and sibling rivalry weren't entirely new concepts back then by any means, but Ren's maturity and ambition set the standard of what many girls aspired to achieve. Still, to this day, Ren Stevens is #LifeGoals for some adoring fans. "Women are introducing [Kim Possible and Ren Stevens] to their daughters," Romano tells me, having seen this firsthand at numerous Comic-Cons. "Everyone is watching these things to share them with the younger generation, and I'm very rewarded by that because it feels like there's a legacy there."
In 2002, two years into her time as Ren Stevens, Romano was cast as the starring voice of Kim Possible, a series that proved girls not only can run the world, but they can also save the world on a daily basis — all while attending high school. Between fighting crime, attending cheer practice, and maintaining a 4.0 GPA, her character defied any stereotypical notions of what being a teen girl was "supposed" to be like. "I was very proud to be a part of it, even from the get-go," Romano says. "[Kim] was very empowered and she was a leader." Back then it was all-too-common to see female characters take a backseat to their male counterparts, but Kim Possible flipped the script on typical gender roles by making Kim's friend, Ron Stoppable, her sidekick and a source of comic relief often at his expense. He was stoppable, and often needed Kim to save him, which was a powerful message for young girls to see presented on TV.
Teaching young kids (especially girls) that they can be the hero of the story just as much as any boy is a vital lesson to send out into the world. The equal representation and female empowerment seen in Kim Possible is still much needed in a world where internet trolls bash films like the 2016 female-led Ghostbusters, or the upcoming 2018 movie Ocean's 8. But it wasn't until the birth of her daughter, Isabella, that Romano was able to fully appreciate that message and the impact the show can have on future generations. It's her hope that Kim's fearlessness and drive "can be a good influence" on her daughter and the many other little girls who are looking to tap into their inner-superhero.
That's why Romano was thrilled when Disney announced a Kim Possible live-action movie was in the works. The show's message is timeless and just as important now as it was back when the series first started. And although Romano tells me that neither she nor Will Friedle (the voice behind Ron Stoppable) have been approached about joining the project, she has yet to give up hope to be included in the reboot. "We are kinda just sitting tight and waiting to hear about the scripts," she states. (Romper has reached out to the Disney Channel for comment, but has yet to hear back.)
Acting isn't Romano's only passion these days. From taking care of her 1-year-old daughter to directing and producing her first film Christmas All Over Again, Romano remains just as busy as ever on her social media and with projects that are near and dear to her heart. This includes her brand new lifestyle blog, which launched on April 2. "It'll keep people in the know of where I am and what I'm doing," she says.
It's fun to reminisce and think about our childhood, but how much time do we actually spend thinking of the moments that shaped us? The characters that made us laugh at ourselves, or the theme songs that ignited the superhero inside of us. Kids are so porous that even the smallest influence can affect them, and more importantly, empower them. Which is why characters like Kim Possible and Ren Stevens are so important. We need young girls to see their infinite possibilities represented in film and on TV. Thankfully, we have actors like Romano, who is still, to this day, teaching generations that the possibilities are endless.