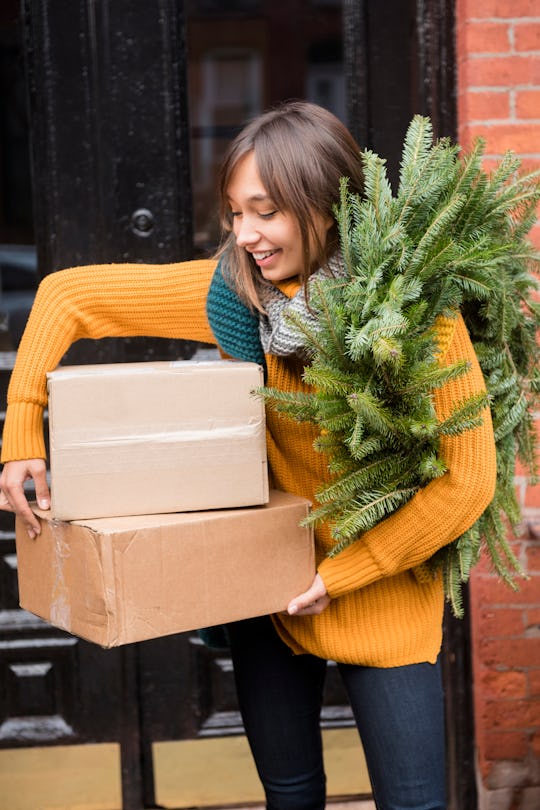 JGI/Jamie Grill/Tetra images/Getty Images
If You're Mailing Gifts This Season, It's Time To Finish Shopping
This is not the year for procrastinating when it comes to Santa and the U.S. Postal Service.
Holiday shopping procrastinators, 2020 has struck again. Due to the pandemic, which has resulted in a gigantic surge in online shopping, the United States Postal Service has just released their recommended package send-by dates for expected delivery by Christmas. If you plan on mailing gifts to friends and family this year, the moral of the story is a simple one: don't wait until the last minute.
For USPS retail ground service (the most affordable option), you'll need to be in line with your packages by Dec. 15. Yes, you read that correctly. For those of us who prefer to "take our time" shopping (you know who you are), this is concerning news at best. First Class, Priority, and Priority Mail Express have until Dec. 18, Dec. 19, and Dec. 23 respectively, but keep in mind that with later dates comes an increase in shipping costs. If you're celebrating Hanukkah (Dec. 10 through 18) or Kwanzaa (Dec. 26 through Jan. 1), the USPS holiday shipping list covers mailing dates for those celebrations as well.
If UPS or Fedex is more your jam, the Christmas send-by shipping news isn't any better, unfortunately. To utilize UPS Ground service, you'll need to have your gifts ready to go by Dec. 13, and Dec. 15 once again for Fedex Ground service. While sending later is possible, of course, it's gonna cost you.
So definitely plan ahead. If you have to ship a whole big package of gifts, wrapped and gift-tagged, you might want to finish up your shopping ASAP so you have time to work your elf magic on everything. If you're sending straight from a store, many will offer gift wrap, and be sure to put a gift receipt in rather than the actual receipt so you can keep the price off of the items.
If "stop procrastinating" was going to be one of your New Years resolutions in 2021, perhaps you can get a jump on things and start practicing early?