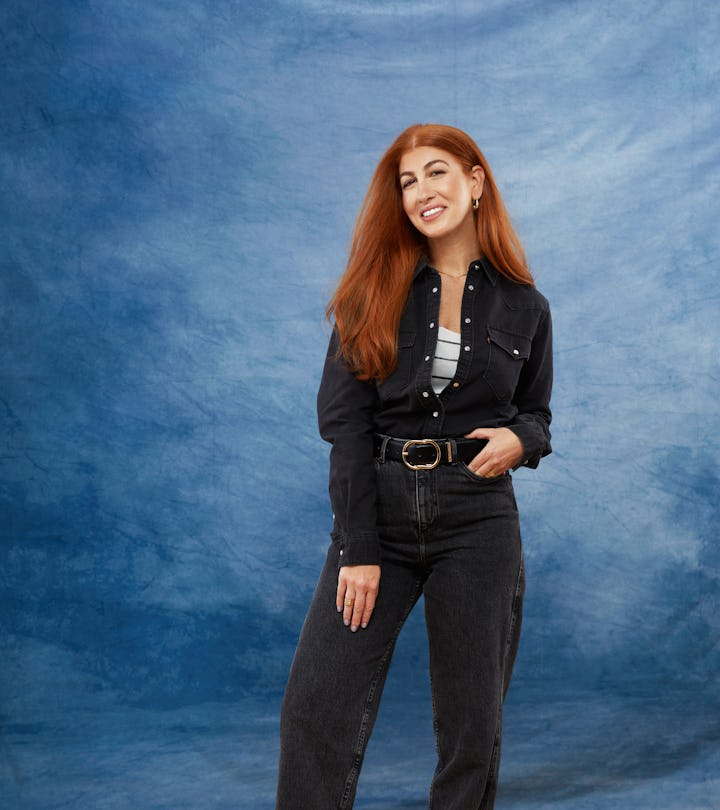 How A Chic NYC Mom Makes Denim Her Transitional Wardrobe Staple
Alissa London shares her top style picks from Macy's.
Once summer comes to a close, wardrobes everywhere shed their breezy styles in favor of more substantial layers. But being in between seasons, it's the transitional looks (that can take both temperature drops and last-minute heat waves) that become key. Alissa London, BDG's Senior Director of Client Solutions (and busy NYC mom of two), considers denim her capsule wardrobe essential for this time of year. "Having a capsule wardrobe helps me get dressed in a pinch and trust that my look is polished and chic, even if I'm rushing out the door," she says.
Denim can truly do it all, and Macy's has everything you need to create your ideal denim wardrobe. "I am already filling my closet with jackets, shoes, and fall-ready denim," says London. "I get super excited about all of these new pieces. I am that girl, who wears something as soon as it hits my shopping bag." Macy's makes it easy for London to build a capsule wardrobe from denim pieces, whether she's running around SoHo with her kids on the weekend, in her office during the week, or having a night out with her husband and friends. Ready to enter this transitional season as devoted to denim as London? Take some inspiration from these four looks she'll be rocking all over the city.
Utilitarian Chic For Family Brunch
A denim jumpsuit is a must-have for busy parents. Not only can you easily throw this one-piece on and pair it with sneakers, sandals, or even heels, but it has tons of pockets to keep daily essentials (keys, hand sanitizer, kid's snacks, etc.) close and on hand. Wear it to weekend brunch with the family, and layer on a white shacket and silky scarf if the temperatures start to dip.
Timeless Polish At The PTA Meeting
As a working parent, London has a limited amount of time to dress herself and her son in the morning. (As for her daughter, says London, "My daughter already has a very strong opinion on what she wants to wear each day.") It's imperative that London has a quick, classic look that carries her from the office to school functions seamlessly. This black Levi's western shirt — dressed up for work with a striped blazer — accomplishes exactly that. The denim shirt is another capsule mainstay, which you'll see transform into an outer layer in her next look.
Effortless Ease For Date Night
Take your jeans from everyday to elevated by opting for a darker wash. A simple striped tank and jeans feels chic for a day date, but an evening out calls for a shift to all-black monochrome — with the addition of the matching western shirt. Accessorize with strappy black heels and a matching belt, and you're good to go.
Cute & Casual For A Kids' Party
The versatility of these high-rise tapered jeans is unparalleled, so it's no surprise that London planned a couple of looks around them. "I am loving the high-waisted denim trouser look," she says. Depending on the occasion, she'd pair the style with a crisp white tee or button down with lots of layered gold jewelry and a cool sneaker or boot. "They are such staples for me in between seasons because they can be worn for every moment, at any time during my day," she says. "You can dress them up or down, but they always make an outfit look cool."
Creative Director: Jill Sabato; Photographer: BriAnne Wills; Director of Photography: Jasmine Velez; Animation: Aoife Clancy; Wardrobe Stylist: Ian Bradley; Branded Fashion Lead: Elly Ayres; Hair Stylist: Yoichi Tomazawa; Makeup Artist: Ashleigh Ciucci; Production: Danica Butkoch & Nancy Valev