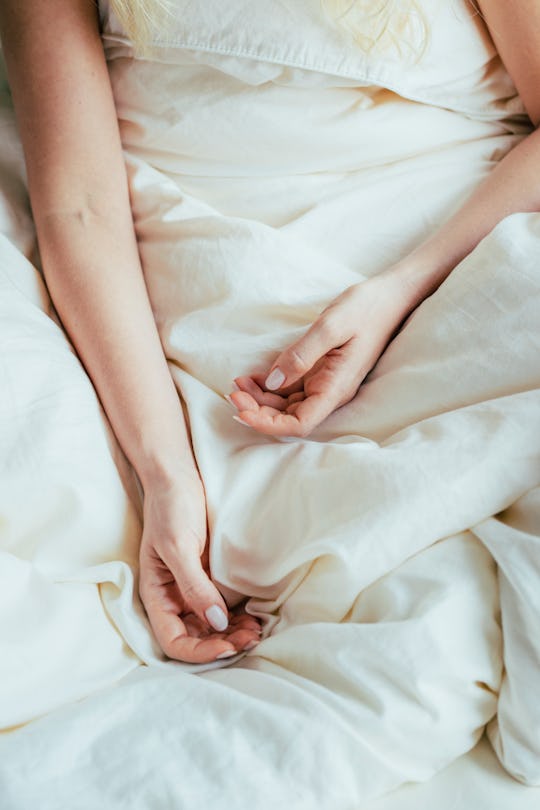 FreshSplash/E+/Getty Images
How Often Should You Masturbate, According To Science?
Here's what the experts say.
Self-love is no longer the taboo it once was — which is a great thing, because pretty much everyone does it. But how often should you masturbate, according to science? And how often do most women masturbate? If you enjoy getting yourself off regularly, you're definitely not alone.
According to a 2017 survey published in PLOS One, about 64% of men and 40.8% of women had masturbated within the last month. And according to research by sexual wellness brand TENGA, women masturbate on average about twice a week, while men do so every other day. Aside from the pleasure principle, masturbation has a myriad of health benefits: It can be a pain reliever and an anti-stress behavior. "It [also] keeps your genitals in good shape, whether or not you have a partner," Carol Queen, Ph.D., sex educator and staff sexologist at Good Vibrations, tells Romper. The endorphins released when you climax can also help relieve menstrual cramps.
Additionally, a little masturbation before bed can help you sleep. "Having an orgasm while masturbating or during intercourse causes a release of prolactin, which is thought to help in a better night's sleep," board-certified OB/GYN Dr. Sherry Ross, M.D., tells Romper.
Is there such thing as too much or too little masturbation?
What is unhealthy masturbation behavior? Compulsive masturbation, for one, is considered an addiction. How do you know if you're compulsively masturbating? "Compulsivity might be in play if you can't meet your obligations (school, work, loved ones) or stay sequestered and asocial so you can masturbate," Queen explains.
On the flip side, should you be doing it more often? Only you can determine the frequency with which you should masturbate. "Generally the answer is 'as often as you desire to do it and have enough privacy,'" Queen says. In other words, as long as you're living a healthy and productive life, then how often you feel yourself is literally best left in your own hands.
There's a happy medium when determining how often is right for you to masturbate, as Queen explains. "You are not masturbating so much that you fail to meet your life's requirements or goals, like [not getting] to class or work on time, [or having] no social life because you're too busy masturbating," she says. "You're also not doing it so much that you frequently irritate yourself or make yourself sore. And you are masturbating enough that your desire for erotic sensation is met."
Below, find some interesting statistics and facts about masturbation — who's doing it and how often (hint: it's a whole lot of people).
While society might have all kinds of opinions about your masturbation habits, remember that it's your body and your pleasure. So, do it as frequently as you wish.
Studies:
Herbenick, D., Bowling, J., Fu, T. J., Dodge, B., Guerra-Reyes, L., & Sanders, S. (2017). Sexual diversity in the United States: Results from a nationally representative probability sample of adult women and men. PloS one, 12(7), e0181198. https://doi.org/10.1371/journal.pone.0181198
Sprouse-Blum, A. S., Smith, G., Sugai, D., & Parsa, F. D. (2010). Understanding endorphins and their importance in pain management. Hawaii medical journal, 69(3), 70–71.
Herbenick, D., Reece, M., Schick, V., Sanders, S. A., Dodge, B., & Fortenberry, J. D. (2010). Sexual behavior in the United States: Results from a national probability sample of men and women ages 14–94. The Journal of Sexual Medicine, 7, 255–265. https://doi.org/10.1111/j.1743-6109.2010.02012.x
Sources:
Carol Queen, Ph.D., sex educator and staff sexologist at Good Vibrations
Dr. Sherry Ross, M.D., board-certified OB/GYN, author of She-ology, and Co-Founder of URJA Intimates skin care
This article was originally published on