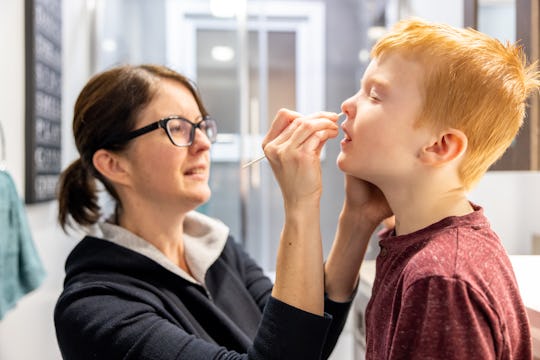 Onfokus/E+/Getty Images
Here's How To Get A Free At-Home Covid Test For Yourself & Your Kids
The Biden Administration has reinstated the program as positivity rates climb once again.
The Biden administration is rolling out another round of free at-home Covid tests from the government as the holiday season (and ensuing family gatherings) approach and as the Centers for Disease Control and Prevention (CDC) have already noted a slight uptick in positivity rates already over the past few weeks. This decision, therefore, is seen as a precautionary measure from the administration, which is also working with local leaders to establish testing and vaccination sites and other community resources.
The move comes after a three month hiatus in the program, due to a lack of Congressional funding for the scheme. The Administration has enacted this latest round of free tests by getting creative with funds from the American Rescue Plan, USA Today reports.
"Testing is critically important to help reduce the spread of Covid-19, as well as to quickly diagnose Covid-19 so it can be effectively treated," Centers for Medicare and Medicaid Services (CMS) administrator Chiquita Brooks-LaSure said in a statement last year in response to the initial launch of covid.gov/tests. "Today's action further removes financial barriers and expands access to Covid-19 tests for millions of people."
You can get free Covid tests online.
On Dec. 15, the White House announced plans to reinvigorate its program to distribute free Covid rapid-tests to American households free of charge. Every family is entitled to four free rapid tests, but tests won't come to families automatically. Those looking to secure at-home Covid-19 tests from the White House will need to visit covid.gov/tests, which is currently open for orders. Once there you'll want to click the "order free at-home tests" button, which will redirect you to a USPS order form. There, you'll fill in your contact information and shipping address before checking out and receiving an order number (which you may want to save for your records).
Each order includes four individual rapid antigen Covid-19 tests, according to the USPS website. Orders can not be adjusted to include fewer tests and are limited to one order per residential address. Orders will ship for free starting the week of Dec. 19, according to the White House.
Individuals who are blind or have low-vision, or who otherwise have difficulty accessing the internet can still utlize this program and receive their free tests can call 1-800-232-0233 (TTY 1-888-720-7489) to get help in English, Spanish, and more than 150 other languages from 8:00 a.m. to 8:00 p.m. E.T., Monday to Friday and 8:00 a.m. to 5:00 p.m. E.T. on weekends.
At-home Covid-19 tests, also called rapid antigen tests, enable families to check for the virus at home in a way that is fast and easy to self-administer. While at-home tests are more likely to return false-negative results than PCR laboratory tests, they can still provide a way to mitigate exposure and transmission risks.
Private insurance is required to pay for Covid tests.
As of January 2022, individuals with private insurance coverage (approximately 45% of Americans) who purchase an FDA-approved, over-the-counter Covid-19 test will have those costs covered by their insurance plan. Individuals are entitled to the eight free tests per month — in other words, a family of four would be entitled to 32 over-the-counter tests every month. (There is no limit, however, on the number of tests that are covered if ordered or administered by a health care provider.)
Precise protocols will depend on one's insurance plan, but purchasing tests via private insurance will not require a doctor's prescription or appointment, nor deductibles, co-payments, coinsurance, prior authorization, or other such requirements. Generally, it will happen in one of two ways: either an individual will be able to obtain tests directly from preferred/in-network pharmacies simply by showing their insurance information, or they will file a reimbursement claim. Should one purchase a test out-of-network (for example, if one purchases a test from Walgreens when their in-network pharmacy is CVS), insurers are still required to reimburse tests purchased by consumers for the cost of the test up to $12.
At-home Covid tests may be free through local initiatives near you.
At the moment, finding a free at-home Covid-19 test can take some work, but the administration is working with local governments and community leaders to provide tests, vaccines, and other resources. They've already been working with schools, community health centers, rural health clinics, long-term care facilities, and other convenient locations to make tests available to those who need them. Now the Administration has announced additional distribution programs to reach people with free, at-home tests, including thousands of tests that will be given through the Department of Housing and Urban Development and a network of hundreds of food banks.
Additionally, Health and Human Services (HHS) Secretary Xavier Becerra has sent a letter to all governors outlining key actions that he would like state leaders to take as they prepare for increased cases and hospitalizations this winter and reminding them of federal supports that are available, including mobile and pop-up vaccination and testing sites.
Contact your city or town government for more information on more local resources near you.
Covid cases have traditionally peaked in winter months.
Year over year, the holiday season sees sharp increases in cases of the virus, peaking in early January after millions of Americans gather together with loved ones to celebrate the holidays. In 2021, more than 142,388 Americans were hospitalized with Covid-19 as of Jan. 9, surpassing the previous winter's peak and up a staggering 83% from the preceding two weeks, according to data from HHS. While the Omicron variant responsible for the sharpest spike in cases was less virulent than previous variants — with less severity and fewer fatalities overall — the sheer number of cases overwhelmed hospital systems across the country. While this will be the first holiday season in which a majority of American adults are vaccinated, most have not yet received appropriate booster doses, so another spike is not outside of the realm of possibility.
This article was originally published on