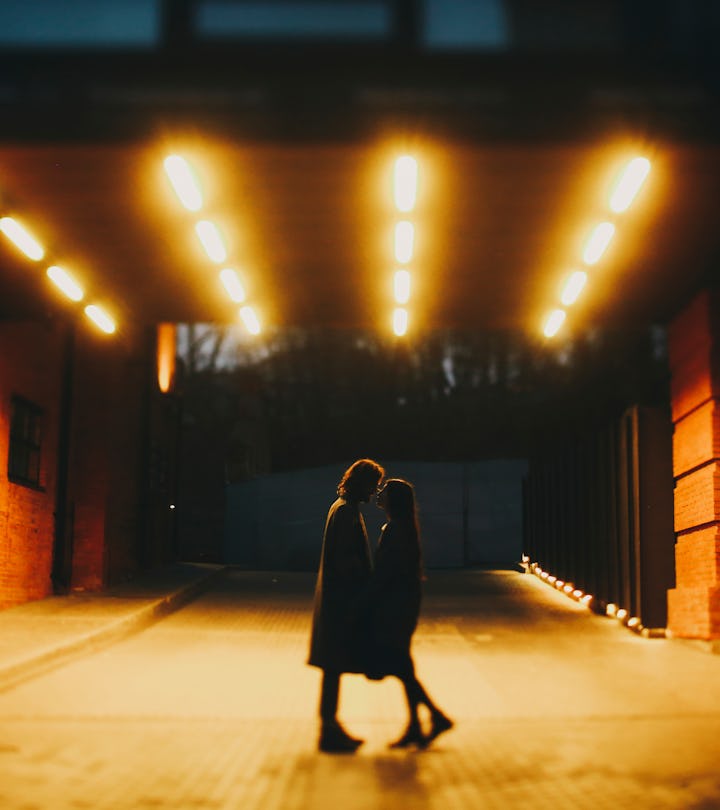 Sophie Filippova/Tetra images/Getty Images
7 Tricks To Master Standing Sex, Because It's Not Easy Folks
If you want to have sex standing up and actually enjoy the experience, you should know it is possible. (Really.) There are some simple tricks to master standing sex, so your real life can be almost as steamy as your favorite film. It's also a simple way to reduce your risk of injury, which is always hot. Really, don't feel frustrated if standing sex has you baffled, because even sex experts admit it's something of an advanced position.
How to have sex standing up
"Sex standing up can be pretty hot. But it can sometimes be difficult to sustain, especially if it lasts a while," Dr. Rachel Needle, licensed psychologist and sex therapist, tells Romper. It's probably going to take a few attempts before finding the right fit for both you and your partner. "Just because you are 'getting it in' in the idealized position does not mean it is a momentous success but instead a checked box, at best," Dr. Ashley Grinonneau-Denton, , Co-Director of the Ohio Center for Relationship & Sexual Health, tells Romper. "I emphasize the importance of changing positions and experimenting with the same position in order to create optimal pleasure." With that in mind, here are a few tips you can try out to make standing sex better than ever.
Most of all, just enjoy the process of experimenting with different sex positions. "Don't force it," says Dr. Needle. "Have fun with your partner and be open to trying new things!" That's an excellent attitude to take when approaching any sexy new adventure.
Experts:
Dr. Rachel Needle, licensed psychologist in West Palm Beach, Florida and Co-Director of Modern Sex Therapy Institutes
Dr. Ashley Grinonneau-Denton, Ph.D., Co-Director of the Ohio Center for Relationship & Sexual Health
This article was originally published on