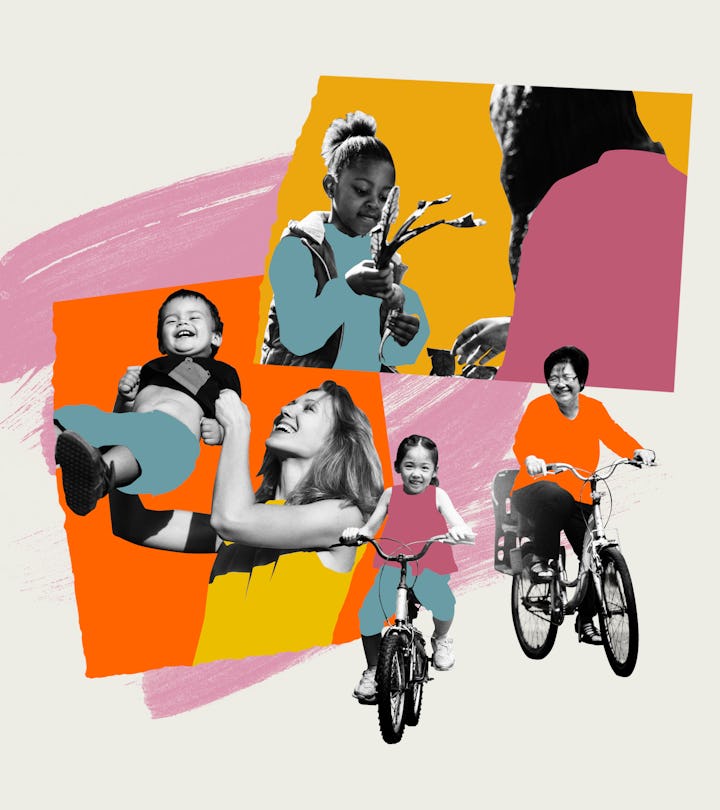 How To Help Your Kids Celebrate The Non-Traditional 'Moms' In Their Lives
It takes a village and it's worth celebrating them, too
While it might be a Southern trope to grow up calling your parents' friends Aunt Barbara or Uncle Tony, it acknowledges a common truth that transcends regional as well as familial classifications: that you don't have to share blood with someone to share a bond that truly matters.
As such, this Mother's Day, we here at Romper want to encourage all of our readers to rethink how they celebrate all the nontraditional mom-type figures in their lives. Be it the (biological or not) aunt with whom they have a longstanding Thursday night pizza date, a grandma who plays carpool lane hero every school day, a dear neighbor who took on the task of teaching your offspring the joys of growing food in the earth, or even just the bedrock friend who will always pick you up when you are down, let this Mother's Day be your perfect excuse to spoil them rotten and to say thanks.
Need some help? Luckily, we have more than a few ideas of exactly how to do this. Let's go!
Cut It, Cut It
Take the subtle approach with these classy, earthy cutting boards that pack as much substance as they do style. Really nailing a motherly role transcends gender and traditional gender roles, so with Shutterfly you can choose from a large array of styles and approaches to fit your kid's beloved adult.
Whether the adult in question feels most at home talking propane and propane products, has a very understated personal style, or might be considered a bit of a wild card, there's a style available so you can find your perfect fit. Options include fully customizable text!
Pick Up The Phone
"Keys, wallet, phone," is a modern-day mantra and frankly a helpful checklist for anyone prior to leaving the house. And with that phone, it's important to stay protected—after all, it's essentially a tiny computer you keep in your pocket or purse that functions as your lifeline to other humans, trusty navigator, personal secretary, and more. It's enough to feel borderline stressful, so why not embolden it with personalized protection? Shutterfly offers a spread of phone case designs to help dole out a jolt of joy for your kids' mom-like loved ones, from photo collages of kid critters to those paying homage to more traditional critters, as well as more illustrative options. All this, available for your favorite source of on-the-go serotonin!
How's that for mobile warm and fuzzies? Pretty potent, if I may say so myself.
A Picture: It Lasts Longer
Sure, we'd be remiss to not point out an absolutely classic option: gift honorary moms a personalized photo book. Shutterfly's offerings span the whole gamut, but for a quick tip—that's sure to delight for many more Mother's Days to come—check out the Simply Modern Photo Book. Ranging in book size from 8x8 all the way to 12x12 and with binding options that include soft, hard, and leather covers, there are endless combinations to craft a thoughtful gift that's unique for your recipient. And since these folks are already lending such special, personalized energy in your life, wouldn't you say they're worth it?
Shopping for someone with jet-setting tendencies? Highlight some of their most impressive trips by crystallizing them in the Travel Adventures Photo Book style. Similarly, if said travel bug bites in the Orlando or Anaheim directions, think about tricking out the Disney Family Adventures Photo Book to forever preserve those specific feels. Mom types with creased passports might find the Travel Abroad Photo Book especially speaks to them (plus, it makes for a fun excuse to flip through and revisit old memories while delighting in new recipes learned when scoping new places).
Mommy Juice
It's wine-o'clock somewhere—a universal truth Shutterfly acknowledges with expansive options for custom wine-guzzling gear. (For those off the sauce, they still work great for a seltzer on the rocks with lime or kombucha.) A Photo Gallery design wraps a simple, family-featuring banner across the glass for a slick nod to the bonds you wanted to celebrate in the first place. It's a fact all human beings with taste also have a taste for rosé, which makes Yes Way Rosé a fool-proof consideration. Four-legged friends shine on the Simply Chic Fur Mom option while Mom Fuel offers a hilarious wink towards all moms—blood, honorary, everything in between.
Let's Get Physical
For those more at home in a pilates class than ensconced in a mud bath with cucumber sunglasses, peep Shutterfly's extensive array of available water bottles.
Pictogram fuses stainless steel with a straw and half-sleeve collage of customizable photos but then there's also the risk-taker honoring Adventure Awaits option. Frankly? The options under this umbrella are all so objectively good, it seems impossible to go wrong in picking just one (but there's also no rule that says you can't get three).
A Missing Piece
Nothing honors time spent together like making an excuse to do more of it. Scroll through the appetizing stretch of custom puzzle options to prep for your next game night. Whether you land on the noble Gallery Monogram or Photo Gallery Portrait or Live Love Bark Collage (or any other of the formidable, expansive options), you can rest easy knowing the people important in your kids' lives will feel recognized this Mother's Day. And that the fun times are only just beginning.