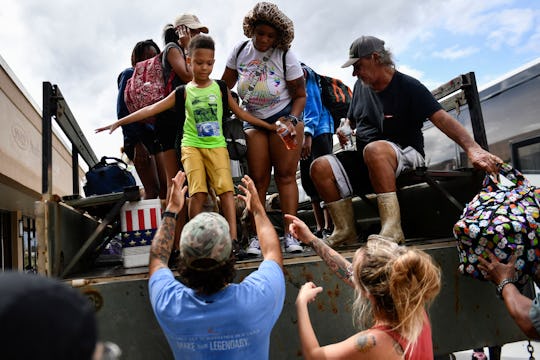 PATRICK T. FALLON/AFP/Getty Images
How To Help Families Impacted By Hurricane Ida Right Now
Here's how you can help families across Louisiana secure diapers, medicine, hot meals, and more.
Families across Louisiana are grappling with the damage left behind by Hurricane Ida, which touched down early Sunday afternoon as a Category 4 hurricane near Port Fourchon, just south of New Orleans. As the storm moved across Louisiana, pummeling towns with winds that ranged from 87 mph to 172 mph, and into Mississippi it was downgraded to a tropical storm by the National Hurricane Center in the pre-dawn hours Monday. As rescue and recovery efforts ramp up, there are a number of ways to help families impacted by Hurricane Ida.
No matter how far away from Louisiana you live, there are ways that you can make a real difference right now. From helping families with young children secure diapers and wipes to helping unhoused youth sheltering in place in New Orleans, donating to the various nonprofit groups currently working on the ground in Louisiana may be one of the best ways to provide immediate assistance to those in need.
How To Vet Organizations Working To Assist With Hurricane Ida Relief
Don't let a fear of getting scammed prevent you from donating to disaster relief victims. While scammers often attempt to use natural disaster relief efforts like those getting underway in Louisiana as an opportunity to launch fraudulent fundraisers, there are a few quick and easy ways to ensure you're donating to a valid organization.
Before sending money, research the organization or charity you're looking to donate to on a site like Charity Navigator, Guidestar, or the Better Business Bureau's Wise Giving Alliance. These sites provide ratings of charities to better connect donors with trustworthy organizations to support. Charity Navigator also enables donors to donate to multiple charities at one time through their Giving Basket program.
Local Organizations Helping Hurricane Ida Victims
While national disaster relief organizations gear up to assist families impacted by Hurricane Ida, many organizations local to Louisiana are already on the ground providing much-needed help.
Larger, National Organizations Helping Hurricane Ida Relief Efforts
While this list is by no means a comprehensive list of every charity or nonprofit organization working to bring much-needed aid to families impacted by Hurricane Ida, it hopefully provides some ideas about ways in which you can help.