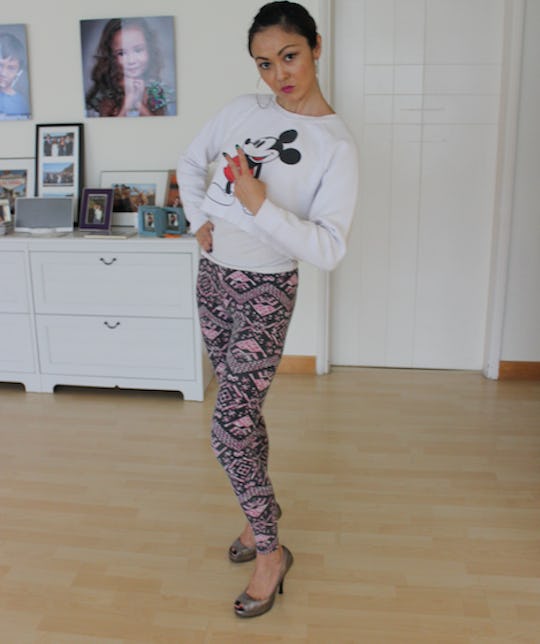 Courtesy of Andrea Wada Davies
I Let My Fashion-Obsessed 3 Year Old Dress Me For A Week & This Is What Happened
Toddlers. They're opinionated little suckers. They've only been in this world for a few years but they already damn sure they know what they like and what they don't like. And they're not afraid to voice it. My 3 year old has an opinion about everything. Well, almost everything — she couldn't care less about whether or not England wins in cricket. It's something we both have in common (don't tell my British husband). But everything else? She has something to say about it. Especially when it comes to my wardrobe. My toddler has something to say about what I wear on a daily basis. Every morning, when I emerge from my bedroom, I get a verbal thumbs up or thumbs down. "That's not a very nice color," which means thumbs down, or she says something like, "Ohh, you look beautiful in that," (which I take for a thumbs up). Sometimes Stella will tell me, "You really look like a sparkly Rainbow Dash jumping through the air today," and I'm not totally sure if that's thumbs up or down. But no matter the day or the comment, most days I can count on her to make outfit suggestions. She'll even go through my closet and/or drawers sometimes to pull out a specific top or dress she finds fitting for wherever we may be headed.
She's so interested in what I wear each day that I thought, why not let her choose my outfit every day for a week and see what happens? She loves all things fashion and sort of even has an eye for it (as much as a 3 year old can), so why not let her get actively involved in the process? How crazy could it get? I know what she likes me to wear and luckily it's not anything acid-washed, pleather, or flesh-colored lycra — not that I have anything like that in my wardrobe, obviously — and to be honest, I was interested to see what would happen if I let someone else pick my outfits. At the very least I figured it'd be fun to see her tastes and preferences play out in a fun experiment. And I knew she'd love the chance to be the shot caller.
The Experiment
Since the idea really took on a life of its own, I decided to let my daughter dress me for a week. One whole week. One week that included work meetings, lunch dates, appointments with teachers, and even a hot date with my husband. I let her dress me every morning from head to toe. She picked my jewelry, my top, which bottoms I'd wear, and my shoes. She even styled my hair and makeup on some of those days.
Where would giving my 3 year old full reign of my wardrobe take us? Here's what happened:
Monday: It's On!
It was early Monday morning when I told Stella that she was going to get to pick out my outfits for the whole week. Once she heard this sweet, sweet music to her ears dressing me became the only thing that mattered. There was no waiting around and certainly no delaying her styling magic. She jumped up and bolted for my closet. She thought it was a fun activity, sure, but part of me felt like it was her duty, as the toddler fashionista that she was, to dress me. She had this look that said, finally, I can dress you the way you're supposed to look. And she got right to it.
It was pouring outside. And I'm not talking refreshing April showers. I'm talking a rain alert issued by the local weather observatory kind of rain. I had a meeting to attend that day so I knew I'd have to brave the downpour in whatever Stella chose to dress me in. I tried to steer her toward my "rainy day" section of trousers and quick-drying fabrics, but Stella was all about the dresses. I obliged her requests and pulled every dress she asked to see from my closet. Stella chose a decidedly rain-unfriendly dress for me to wear: a canary yellow tunic dress without tights and paired with wedges. I reasoned that her selection was nothing a raincoat and an umbrella couldn't save. But the platform wedge sandals she chose for my feet were definitely going to kick my ass.
Thankfully, the rain let up enough for me to get to and from my meeting without breaking one of my ankles. And also, taxis. Thank goodness for taxis.
Tuesday: Oh, Brother
Perhaps it was her newfound excitement about it all that led her to go big on day two, because when she pointed at a coral-colored top, she simply said: "That one." She then headed to the bottom drawer of my dresser — my "chillax" drawer and pulled out some of my shortest shorts. I started to remind her that, "Wait, I have to go to a lunch meeting today," but quickly realized that my meeting would not change her mind. She had committed to her decision about the coral top and those Daisy Dukes. As far as Stella was concerned, that's what I was wearing. Thankfully it was a casual lunch meeting with cool people who wouldn't mind my outfit, which wasn't so much built for "casual lunch meeting" as it was "Ladies Night Out at the Cheesecake Factory bar." But what Stella wants, Stella gets.
To my surprise, not only did I not get any judge-y leers or WTF eyes from anyone that day, but I actually got a compliment on my outfit from a lovely woman standing next to me on the subway. I was surprised by the response, but it wasn't because I thought Stella hadn't put a sound outfit together — she had. It was just that I was showing a lot of skin for a mid-day lunch meeting. During monsoon season. In Hong Kong.
Wednesday: Classy AF
I woke to rain and a summer cocktail dress on Wednesday. The decision was made the second Stella laid her eyes on that white and lime green number that I hadn't worn since my sister's gorgeous Hawaiian beachside wedding. Unfortunately, the only thing this particular Wednesday shared with Hawaii was the Pacific Ocean, which was slowly forming in the streets outside our apartment. I couldn't have picked a wetter week to do this experiment.
I work from home most days, so thankfully I can avoid the rain for the most part, But on this day, I had a meeting with one of my son's teachers to discuss his course options in the subject for next year. Well, that teacher either thought I had just attended a morning Hawaiian beachside wedding or he thought I was trying to impress him beyond appropriate teacher/parent boundaries. Luckily, he didn't make me feel out of place or awkward about my outfit choice.
Though it wasn't exactly classroom appropriate, I couldn't help but admit that Stella has serious style.
Thursday: Throwback Style
Thursday was a major errand-running day so I was relieved when Stella had mercy on me and steered clear of the heels section of my closet. As much as she loves me to look "fancy" every day, she understands that some days don't call for stilettos or wedges, especially errand day. Nope, errand day calls for gold gladiator sandals. It also called for my Gumby t-shirt, which I love. I was obsessed with Gumby as a child, and I collected everything Gumby I could get my hands on, from lunch pails to a life-sized stuffed plushy. Now all I have is this awesome Gumby t-shirt that my sister found for me a few years back, and Stella pulling it from the depths of my closet reminded me that kids aren't the only ones who should rock character t-shirts on a regular basis.
She paired my Gumby shirt with some denim shorts, the gladiators, and one of my layered bead necklaces. It was an outfit that seemed to have exploded straight out of a candy shop, and it made me feel happy and upbeat all day long. I'd never choose it for myself, and I loved that Stella put it together.
Friday: Now We're Talking!
Stella's Friday styling vibe was all good with me. I love living in leggings, and was pleasantly surprised when she picked them out after a steady flow of dresses, and then Stella added a comfy warm Mickey sweatshirt to the mix — yes!
She was still using her children's character inspiration, only this time she gave me Mickey to flaunt instead of Gumby from the day before. She even chose my biggest hoops to wear with the outfit, which now said yeah, I'm pretty chill, but cross me and I'll cut you. The whole thing would have been a real Casual Friday slam dunk had she not chosen the peep toe heels. Thankfully, aside from a fun lunch with a girlfriend, I was at home most of the day, which meant the shoes wouldn't be an issue as they'd be off. And Stella and I would be dancing most of the day, anyway.
Cheers to the freakin' weekend.
Saturday: Going Hard For Night
Saturday morning was full of all kinds of activities and kid commitments. However, Stella dressed me that day with only one thing in mind: my date with my husband, which would happen later that night. She'd overheard us talking about it, and she had already told me the night before that she was going to choose something "pretty sassy" for the occasion, which would amount to no more than a quick bite to eat and a movie. Not only did she keep good on her promise, but she also pulled through in the comfort department as well. And she did it all by keeping it simple, with a tank and some (faux snakeskin-patterned) jeans.
Stella dressed up the look by layering several of my necklaces, having me pull my hair back and also wearing my blue booties. I was impressed with her use of accessories. She'd been incorporating them religiously all week, really taking time to make sure they complemented each outfit. I was also impressed that she managed to put together something so understated and chic, so relaxed with an edge.
This experiment was really showing me that she has an eye for fashion, and she was loving it.
Sunday: Giving New Meaning To The Term "Sunday Best"
As it was too humid and muggy to hit the outdoors for any length of time, Sunday was a Netflix and chill kind of day. But to Stella, there was no chill in her last day as mom's wardrobe boss. In fact, she got all Anna Wintour on me that day, giving me style orders, and not taking any suggestions or resistance from me. When I questioned her outfit choice of the day, an ankle length dress with mesh cutouts, and reminded her that we were just going to be kicking around at home, she simply responded with, "It's what you need to wear." Case closed.
Stella paired my dress with my purple wayfarer sunglasses, which incidentally gave me a very beach-volleyball-meets-formal-night-on-a-cruise look. She had me wear her favorite necklace for the third and final time that week, and she put me in those silver peep toe pumps again because "silver is one of her favorite colors." It was the most fantastic outfit I'd ever eaten microwave popcorn on the couch in.
Everyone Should Have A Toddler Stylist
What did I get out of this experiment? Well, laughs for one. And also, some really fun bonding time with Stella. She loved that I entrusted her with what she saw as the honor of choosing my daily outfit. Or perhaps more accurately, she loved that I finally gave into her expertise, which at her age is supported by a pure inherent passion for fashion.
Did I learn anything? I learned that every year that goes by, I care less and less what other people think. In fact, I'm at such an advanced stage of not caring that I don't know where it can go from here. As long as I am comfortable and feeling powerful in my own way, it wouldn't matter to me whether or not I was meeting the general public's expectations unless I ran the risk of getting kicked out of an establishment or emotionally scarring my children. I could be wearing an evening gown or a chicken suit all the same, and as long as it fit my mood and had me feeling good, who cares whether others think it's what I should be wearing.
I was also reminded of how cool kids are, and of how adults should honestly try to be more like them. This week taught me to embrace my body and to remember that style and rocking a look or an outfit is more about confidence and an attitude than anything else. Stella didn't care if I had a meeting or was just kicking around the house. To her, wearing a cocktail dress and five-inch heels to a meeting with your son's teacher was only worthy of one question: Why not? If I had plans to deep deep cleaning the house, Stella didn't let that stop me from wearing a long backless gown. Most of all, Stella reminded me that the clothes don't really matter. As long as I was wearing my true inner confidence and glow, I'd always be the best dressed in the house.