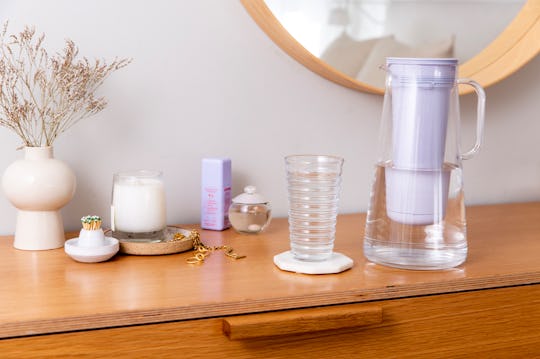 Courtesy of LifeStraw
I Never Thought I'd Get So Excited About A Pastel Water Pitcher, But Here We Are
As a city-dwelling mom who lives in a small apartment, there are few things I'm willing to sacrifice my already-limited kitchen counter space for. Unless it's a vase of fresh flowers or an espresso machine I spent half a paycheck on, it's not getting a coveted spot.
Recently, in an effort to up my family's water intake, I tried out a home filter pitcher from LifeStraw. It's a perfectly sized water filter pitcher that actually makes a difference in the taste and quality of your water — and (almost) just as important — comes in a slew of on-trend pastel hues that instantly elevate the aesthetic of my kitchen counter. (Yup, it made the cut.)
Between helping to ensure my family and I are drinking enough fresh, high quality water and just, well, looking cute, this pitcher quickly became my latest obsession.
What It Does
The revolutionary LifeStraw Home pitcher features the only water filter on the market that removes contaminants like microplastics, PFAS ("forever chemicals"), bacteria, lead, and 30+ other contaminants from your drinking water while retaining essential minerals like magnesium and potassium. Just fill the easy-to-access flip top cover with tap water and let it trickle through for powerful filtration that, bonus: makes your water taste so much better.
The cherry on top is that this pretty little gadget can filter upward of 1,000 liters of water in a year, which means if you choose it over single-use plastic water bottles, you're keeping over 2,000 bottles out of landfills.
Why I Love It
Since getting my LifeStraw Home pitcher, not having to question the quality of my family's water has been a total game changer. Whether I'm making my bougie coffee in the morning or filling my daughter's bottle for school, I can rest assured that typical contaminants found in tap water won't be a concern. The sleek Danish design doesn't take up much space on my counter or in my fridge, and the new pastel shades add the perfect pop of color to my space. My personal favorite, Wisteria, is a gray-meets-purple that still counts as a neutral in my book.
The best part? For every pitcher purchased, a child in need receives one year of safe water through the B Corp and Climate Neutral Certified brand.
The Bottom Line
Net net, the LifeStraw Home filter pitcher does exactly what you need it to do, while also looking good among your kitchen essentials. Does it include unnecessary features like filing your taxes or giving you a morning pep talk? No, but it does provide better filtration, better taste, and better design, all while doing good for us and our planet.