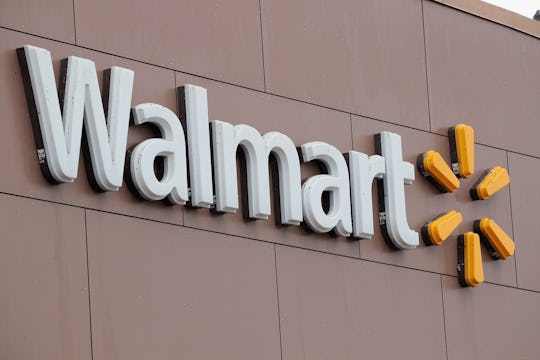 Scott Olson/Getty Images News/Getty Images
Walmart's Memorial Day Hours Mean You Can Still Get Diapers On Monday
(And hot dogs, burger buns, sodas, chips, an inflatable pool...)
Memorial Day weekend is the unofficial start of summer for many of us. There are cookouts and ceremonies and pool parties galore. But the thing about all those parties is that you have to be prepared for them. Being a mom, a writer, and a graduate student means that I don't always get stuff done ahead of time, and I find myself scrambling at the last minute. I need to know what's open and for how long, because I plan on hitting Walmart up on my way out to the Hamptons. (You know I totally forgot to order the burger buns and mustard from my grocery service.)
To find out, I did some searching, and discovered that business will be operating as usual. Walmart stores will be operating during their normal business hours — 6:00 a.m. to 11:00 p.m. — on Memorial Day. This isn't shocking, since Walmart is open on all holidays except Christmas Day, and the only holidays they change their hours for are Thanksgiving, Christmas Eve, and New Year's Eve. Of course, it's always a good idea to call and check your local store to make sure they haven't changed their hours. But, overall, there's no need to panic if you run out of napkins or diapers — you can still get them on Monday.
Walmart will also be serving up some pretty great sales and deals for anyone who is interested in partaking in some Memorial Day shopping. Of course, sales aren't the reason for the weekend. My family and friends have a lot of soldiers serving and who have passed during their service, as well as police officers and firefighters, so I understand the idea that a mattress sale might be offensive. But if it is something you're interested in, they offer information on their website. The Savings Spotlight page highlights some of Walmart's best deals, which include 10% off select tech finds, 15% off select air conditioners and more, up to $300 off mattresses, and up to 50% off Champion clothing.
And when it comes to prepping for your celebration, don't be worried — Walmart sells pretty much everything you need for an outdoor BBQ, and you can get all of that ahead of time, or the day of (if you tend to do things at the last minute). I've never met a soldier who would say that a party isn't a good way to honor their service. In fact, the bigger the party, the better. Just be sure to talk openly about the sacrifice so many members of our armed forces have made, and how their work and duty is what has enabled you to enjoy your hot dogs and BBQ.
The party I go to every year is hosted by a United States Marine and his husband who served in the Royal Air Force. You've never been to a party until you've been to one of their feasts. I just wish I knew which chips were on sale. I don't need to question if Walmart is open on Memorial Day as much as I need to figure out what to grab.