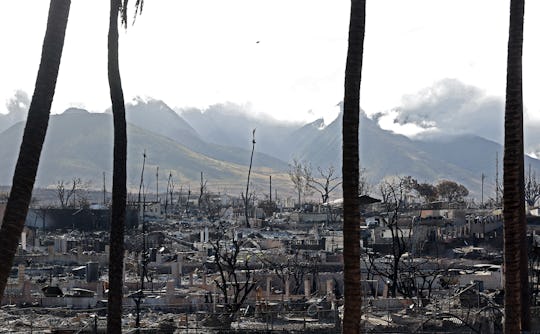 Justin Sullivan/Getty Images News/Getty Images
Hawaii Governor Fears It's "Possible" Many Lahaina Wildfire Victims Are Children
"It's possible that there will be many children."
As over 800 people remain missing following the devastating wildfires that started raging through Maui on Aug. 8, Hawaii Gov. Josh Green expressed worry that many of the victims could be children who were at home as many schools on the island were closed that day.
During an interview with CBS News' Face the Nation on Sunday, Green said it's "possible" that many of the wildfire victims who are still unidentified and unaccounted for could be children. "I know a local Maui official said a large number of the dead may have actually been children who were left home that day because schools were closed, many of them alone or with their grandparents. Is that the case?" moderator Margaret Brennan asked the governor.
"That is possible," Green responded. "That's what we're sharing here internally, that it's possible that there will be many children. This is the largest catastrophe and disaster that's ever hit Maui, probably that's ever hit Hawaii outside of wartime events."
One child who has sadly been accounted for by his family is 14-year-old Keyiro Fuentes, who would have celebrated his 15th birthday on Aug. 20. After days of searching, Luz Vargas told NPR that her adopted son was found dead at home. "I thought he'd just be ashes ... powder," she explained to the news outlet. "But that's not how it was. ... My husband picked him up and carried him all the way back to the car." The family has started a GoFundMe to help with funeral costs; over $32,000 have been donated so far.
Another child, a 7-year-old boy from Maui, was found burned to death in a car along with his family, according to the New York Post.
As of Monday, 850 people remain missing in the aftermath of the wildfire and 114 have been confirmed dead, according to Maui Mayor Richard Bissen. "It is my sad duty to report that 114 individuals have been confirmed deceased. Twenty-seven individuals have been identified and 11 families have been notified," Bissen said in a video shared by the County of Maui on Facebook. "As we continue the recovery process, the number identified will rise and the number of missing may decrease. But there will daily fluctuations in the numbers as family members are added and removed from the list."
Green previously confirmed that search crews have found entire families killed by the fires, both at home and in their cars. In an interview with Hawaii News Now last week, the governor asked for patience with recovery efforts. "That's one of the toughest parts of this," Green said. "It's one of the reasons … we are asking for some patience when going into the ground zero area because some of the sites are too much to share or see from just a human perspective, and also you don't want to disrupt any of the recovery."